Evil Shadow Team hacked Microsoft store India website

Did you hear that the Evil Shadow team hacked the Microsoft Store India website? The hackers identified themselves as Evil Shadow team. Learn more about the Evilshadow team.


Evil Shadow Team - hackers behind Microsoft store India website hacking

The Microsoft website hackers have identified themselves as "Evil Shadow team". There are two names displayed in the screen, which identifies the hackers as 7z1 and Ancker. It sounds like some nick names and may not be real name of the hackers.

Microsoft online store in India is owned & managed by Quasar Media Pvt. Ltd, even though the domain name is registered in the name of Microsoft Corporation. Microsoft online store India website was leased to Quasar Media and was launched in May 2010, according to an old news I found in IndiaDigitalReview.com.


About Evil Shadow Team

According to the information found on their blog, the Evil Shadow team consists of 2 members. The blog is in Chinese and the translated version shows the location of a member as "Taipei, Taiwan".

The hackers have left their email ids on the webpage in the attacked website. The email ids of the Evil Shadow team who hacked Microsoft store India website are 0x.oday@Gmail.com and Ancker@hotmail.com. These email ids and names may or may not be true.

The Google cache copy of the Microsoft store website shows some information at the moment about the Evil Shadow Team. The Microsoft store website was taken down by the engineers currently and is no more live at this time, but you can still see a copy in Google cache.

Take a look at the screenshot of hacked Microsoft store India website, taken from the Google cache copy:




The Evil Shadow team managed to add an html file called evil.html to the root of the website. This page appears in Google search results as shown below:





Here is text shown in the search results:

Evil Shadow Team.. Unsafe system will be baptized ...
Blog:Http://Ps.s.Blog.163.com/ E-mail:0x.oday@Gmail.com.


It gives a link to a blog, which the Evil Shadow team claim to be their site that deal with "Network security penetration testing". Everything else in the site is written in Chinese (I guess!). I tried the Translation service and I could not make out anything useful from the blog of EvilShadow team. They have an Avatar used for the blogger and below that it is written "Taipei, Taiwan", indicating they are from Taipei.

Here is a screenshot of the blog, if they disappear after a while: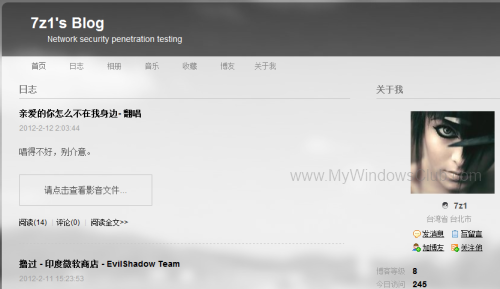 In their blog, they have posted a screenshot of the html page they added to the compromised Microsoft store website.