Nokia E7 smart phone - Specifications and price in India

This article is about Nokia E7 with specifications and price in India. Nokia E7 is a great business device with 4" inch AMOLED clearblack display. It runs on Symbian Anna OS an powered by 1 Ghz Processor.


Nokia E7 Specifications and Price

Nokia E7 is a Business Type mobile with 4"inch 640 x 360 px AMOLED Clearblack capacitive Touch screen mobile.This phone runs Symbian Anna OS powered by ARM 11 680 MHz processor featuring 8 megapixels camera with Dual LED flash , Auto focus and VGA front camera. Nokia E7 uses Standard Li-Ion 1200 mAh Battery which gives 430 hours Standby time.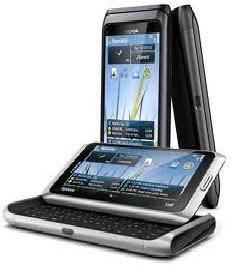 This phone is easy to setup for tech savvy individuals and for those who have experience with the Symbian platform. However it can be quite confusing for those new to touch devices. Its a business class device. So RAM should be at least 512MB to handle heavy multitasking.But the 256MB of RAM is insufficient. Office applications are also easier to use thanks to its large 4-row built-in keyboard. Text input is much faster with the physical keyboard compared to onscreen input.

When it comes to battery life, it lasts for a whole day. But Being a large device, Nokia could have use a batter battery for longer battery life. Its 8 megapixel camera is great with Dual LED flash and auto focus. You get clear and sharper pictures.

The Nokia E7 supports a wide variety of audio and video codecs, thus eliminating the need to convert your media. It is also a very capable portable music player. Finally E7 is worth buying for professional use. If your first priority is for gaming and other power user stuff, you can opt the latest smartphones with 512 MB RAM. This phone has only 256 MB RAM which is quite insufficient for gaming.


Nokia E7 Specifications

•Operating System : Symbian Anna
•Processor : 1 Ghz Processor
•RAM : 256 MB
•Memory : 16 GB
•Display : 4" AMOLED Clearblack Display
•Keyword : Full QWERTY Keyboard
•Battery : 1200 mAh
•Stand By Time : 400 Hours
•Talktime : 5 Hours
•Music PlayBack Time : 55 Hours
•Video PlayBack Time : 7 Hours
•Camera : 8 megapixel / Dual LED flash / Auto focus
•Colors Available : Blue / Grey / Silver/ Green / Orange


Nokia E7 Price in India and US

The Price of Nokia E7 would be Rs. 24,999 /- in India and $ 670.00 in USA.