Specifications and Delivery Schedule of Ubislate 7+ Tablets

This is an article which gives the latest information about the Aakash Ubislate 7+ tablets. You will get the latest and some updated information about the Ubislate 7+ and also the delay in the delivery to people who have booked it online. You will also get to know the specifications and features of Ubislate 7+.


Aakash tablet has been the talk of the town in all places in India. Students are the most attracted and there is huge response from them. Since from the booking date, it has been a load of rush to book it online and now it has come to out of stock category. Aakash tablet price has been the attraction for all this reasons. Since it has become the world's cheapest tablet, it has creating some revolution in the Indian Tablet market. From the date of release it has recorded that over 100000 Aakash tablet has been distributed to all who has been booking it online. Also another exiting thing is that another Aakash tablet with the upgraded features and specification has been released now for pre-booking and it names is Ubilsate 7+. Before it was named as Ubilsate 7 and now it has been changed to Ubislate 7+. There has been many news and update from the date of release of this tablet. Well, here is an quick update about Aakash Tablet PC from its release date.

1. Aakash Tablet PC reached 14 Lakh Bookings in just 14 days.

2. Aakash Tablet upgraded version, Ubislate 7+ has been sold out till February and pre-booking is now open for March.

3. Mumbai students get their Aakash Tablet just for Rs 1,128 on a 50% discount.

4. Datawind, who is the manufacturer of Aakash Tablet, has planned to set up two more factories in Cochin and Noida to meet the demand.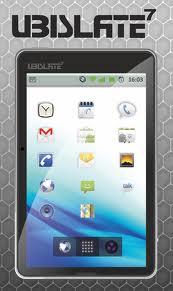 Aakash Tablet was available online for booking from December 15, 2011. They stated that they would deliver the product in just one week of time. But due to over booking which made it out of stock, made to wait till February 2012.
Now the entire Aakash tablet has been sold out and all the students and other people have to wait to have the first touch of their dream tablet. Also those who have missed to book the Aakash tablet, there comes the next Ubislate 7+ which now under pre-booking status. This is the upgraded version of Aakash Tablet which is priced at Rs 2,999 that is Rs 499 more than the original Aakash Tablet which was priced at Rs 2,500 only.


Delivery Schedule for Ubislate7+

Ubislate7+ which is also known as Aakash Tablet 2 will be released by the end of January 2012. Once it has been released, then you can expect you Ubislate 7+ which you ordered online to reach your home. Also the Datawind, the manufacturer of Ubilsate 7+ told that, they will contact all the people who has ordered the tablet through mail or phone just to give an acknowledgement that they have received your pre-booking status. Also they said that once they call on receiving your pre-booking status, they will give you the multiple payment options. Also your Ubilsate 7+ will be shipped through courier servciee to your door step. Soon you can be expecting your Ubislate 7+ to reach you. If you have got your booking ID, then be confident that your pre-booking is confirmed and you will be contacted from Datawind regarding further procedures. Delivery of Ubislate 7+ will start from January end and it will continue to February and then also based on the number of pre-booking they have received. Datawind said that they have been working hard with urgency to complete the make of the tablet and soon deliver the Ubislate 7+ to all the customers.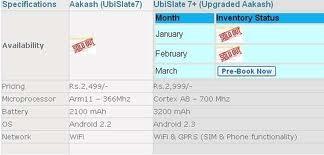 Specifications of Ubilsate 7+

The Ubislate 7+ has the upgraded features and specifications compared to Aakash Tablet. Ubislate 7+ is powered with Android 2.3 OS which makes it to run fast than Aakash Tablet. Ubislate 7+ developed by 7 inch display which gives 800 x 480 pixel resolution. The tablet is manufactured with the resistive touchscreen which is built with Cortex A8-700 MHz processor. Ubislate 7+ has high end graphics accelerator giving the HD video processor. Well, this World's cheapest tablet gives you lot than what you expect. It has an inbuilt memory of 256 MB of RAM and an internal memory of 2 GB. Apart from these basic and important specifications, we have other added features like standard USB port with 3.5 mm audio jack and also features which support GPRS and WiFi.

This upgraded version, UbiSlate 7+ is costly than Aakash tablet due to their added and features and speciation's. This tablet is also said to have cellular modem by which you can establish the mobile connectivity and just use it like a mobile phone and also gives you instant web access anywhere. Also to your notice that the Datawind, who is the manufacturer of this world's cheapest tablet has planned to give internet access of 2 GB pricing at Rs 99 monthly.


Features of Aaksah Ubislate 7+ tablet

*Connexant Processor
*256MB RAM
*2GB Internal memory + Micro SD Card Slot
*7" inch (480×800 pixels) Resistive Touchscreen
*Wireless Wi-Fi 802.11 a/b/g + GPRS
*Email/Facebook/Twitter
*Office Document Viewer (DOC, DOCX, PPT, PPTX, XLS, XLSX, ODT, ODP and PDF)
*Media Player Video (AVI, FLV and MP4/Mpeg)
*Audio Player (AAC, AC3, MP3, WAV, WMA)
*USB Port + 3.5mm Connector
*Battery Life up to 3 Hours


Book Aakash Ubislate 7+ Tablet online

As I said, the stocks are out and you need to wait for long time. As off now, the pre-booking can be done only for the month of March now. Well, to book the Aakash tablet and Ubislate 7+ online our Government of India provided an official website http://www.akashtablet.com/ for booking and pre-booking. The registration process is very simple and just you need to give your details like address and email id and phone number. For further details you can contact on 1800 180 2180 which is toll-free number for Aakash tablets.