First real Windows phone Nokia Lumia 800 features and price revealed

First Windows Nokia Lumia 800 phone features and prices revealed in Global market. Nokia at world conference launched Windows Nokia Lumia 800 phone release date, features and price. Windows phone Mango 7.5 gone through latest updates and many of them are included in Nokia Lumia 800. Read this article to know more about Windows Nokia Lumia 800 phone features and price.


Nokia Lumia 800 Windows phone features revealed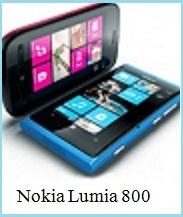 Until we got news from center media that both Microsoft and Nokia has signed an agreement we did not have any real Nokia Windows phone. According to this agreement, Nokia will produce Windows phone such that operating system will be managed by Microsoft and other hardware and mobile parameters shall be managed by Nokia. Since last few months, fewer Nokia Windows phones are released in market but this time a real Nokia Windows phone features and prices revealed in global market. That phone is known as Nokia Lumia 800. Nokia Lumia 800 features contain excellent Windows phone experience for smart phone lovers. Nokia Lumia's screen dimensions appear so attractive to feel and look.

After reading complaints and shortcomings of Windows Nokia phones in comparative to Apple iPhone4S, it is being advice that Nokia could do better with Windows Phone, once it includes front facing camera, NFC, on-device storage etc. Now, Nokia has taken readers comments seriously and looking forward to release Windows phones with some exceptional features. So, that is leading to the launch of Windows Nokia Lumia 800 phone. After observing detailed functionality of Nokia Windows Phone, we can say that it will be first real Windows phone from Nokia which will be expected to do better in market worldwide.


Windows Nokia Lumia 800 phone release date

It will take less than a year for Nokia to launch Windows 7 phones in world market. The announcement of Nokia Lumia 800 release date will be finalized in coming year i.e. in the month of February 2012. At present, Nokia presented Nokia Lumia 800 features in Finland only and has not launched it worldwide level yet. It seems incredible pace from Nokia side to launch this Smartphone within less than a year and it shall take around 2-3 months to test Nokia device.

Nokia's past experience depicts that history status of Nokia will take time to launch any new Smartphone device but this time Nokia seriously doing real time management for releasing Windows Nokia phone in short span of time.


Latest Windows phone Mango 7.5 updates in Nokia Lumia 800

Windows phone Mango releases updates for Nokia phones as it was completely delivered several months ago before the release of Nokia Lumia 800. We know that Nokia is implemented NFC support technology in their recent smart phones but Mango have not updated its operating system with NFC technology. So, how could Nokia implemented NFC technology in Windows phone?, It is still a question to answer. As far as front facing camera is concerned, then mango 7.5 updates make provision for front camera installation in Nokia Lumia 800.

Nokia Lumia 800 creativity is manufactured in Windows phone such that a significant impact is adopted in Smartphone buyers. This is most appealing Windows phone device to launch in market and it will be exciting for future device too. It will give a tough competition to Samsung, HTC and Apple iPhone. In global market, it is Samsung galaxy and Apple iPhone 4S which had great increase in their sales. I am sure that Nokia Windows phone will make fabulous opening in global market.


Windows phone Nokia Lumia 800 price

Nokia Windows Lumia 800 price is around $ 600 and it will be reached to audiences at the beginning of next year. This will be a nice and marvelous Smartphone to purchase at effective price. Its features and screen dimensions are unique with different color patterns to choice at its back end.