Nokia Lumia 710 windows phone specs, features and price

Nokia Windows Phone 7 Lumia 710/ Sabre specifications, features and price are given here. Predicted to become most popular smart phone in the coming days, Lumia 710/ Sabre have some extraordinary features. Read our featured article on Windows Phone Lumia 710.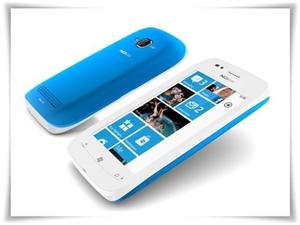 Nokia had been the fore runner in the production of cell phone which is being liked by millions around the globe. With the entry of more mobile phone manufactures, Nokia had to keep the foot a little behind. But now the company is back in front with a new generation smart phone aiming to give a challenge to Apple and Samsung. This time combining with Microsoft, Nokia brings up the most exciting smart phone with unique features which Nokia can only boost upon.

Nokia unveiling the Lumia series smart phone thinks of boosting their market share world wide. Nokia's new series smart phones Lumia 800 and Lumia 710 would be power packed with Windows 7 Mango.

Having a first look on the Lumia 710 shows how radical changes have the company made upon their new smart phone. The Lumia 710 features ClearBlack technology which is being developed by Nokia exclusively for their smart phones. ClearBlack technology enhances better vision even in outdoors. 1.4 GHz Qualcomm Snapdragon processor would add more life to this device. The other features include 512 MB internal RAM, 8GB internal storage, 5 Mega Pixel Camera etc. Wi-Fi, Bluetooth and a micro-USB port are added for connectivity. 7 hours talk time and 38 hours music play back is being offered by the company. The Lumia 710 comes with variety of interchangeable covers as colours like black, cyan, yellow, white and fuchsia on the back while black or white can be chosen for making the front more attractive. Microsoft's internet explorer 9 is added to speed up browsing.

This smart phone will feature Nokia Drive a free application for navigation, MixRadio streaming, ESPN sports hub etc. You can get updated news, scores on sports. The Lumia 710 would start sales in Europe from November. Later, this smart phone will reach Hong Kong, Singapore and India in December. Priced at $375, the Lumia 710 would compete with some of the top smart phones now available in the market.