Cheapest Dual SIM (CDMA GSM) Mobile Phones 2011 | Features and Price in India

Read this article to know features and price of cheap dual sim CDMA and GSM mobile phones in India. The cheap Dual SIM CDMA+GSM mobile phones are expensive in compare to dual SIM GSM phones. The cheap dual SIM CDMA and GSM phones are rear in price and difficult to find. In this article I will explain cheap dual SIM CDMA+GSM mobile phone features and price in India i.e. Microcmax GC256.


In India, since the business of tablets is running well so, a new tablets are releasing every day. At present, the Reliance 3G tab tablet is dominating over all its competitors because it is available at price of Rs 12,999. But still it is considered to be higher in price for some customers who cannot afford to have precious tablet phones. It is GSM network which is given high priority while selecting a network for tablet interface because majority of the Smartphone manufacturers are using GSM networks as their core main source. Therefore, many companies come with GSM networks and introduced dual SIM GSM phones. What can a person do if he/she have CDMA phone and want to experience GSM features of mobile device? They have no option other than to purchase a new phone or to switch their CDMA SIM to GSM SIM.

Many forums and answer based community websites are flooded with these types of questions and answering all those questions is not an easy task. Few companies took initiative to launch new dual SIM phones in India that supports both GSM and CDMA networks in same mobile phone by providing two separate slots in mobiles for inserting SIMs. The dual SIM CDMA and GSM phones are lesser in price in comparison to dual GSM phones because manufacturing of both CDMA and GSM in single device is difficult and expensive. I am also looking for cheap CDMA/GSM mobile phones in India and could not find them as they are rear in price.

There are companies like Samsung, Lava, Karbonn, Micromax, Videocon, Motorola and Blackberry which introduced dual SIM CDMA and GSM Phone in India. But every company manufacturing either one or two mobile phones and they are also falling under high price rate slab. It is difficult for normal users to purchase dual CDMA+GSM mobile phones in India because they have less functionality and high base price. Therefore, I am giving below a list of cheap dual SIM CDMA+GSM mobile phones in India -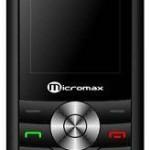 Videocon VC1434, Videocon V1688


Samsung W259, Samsung Duo 169 W169


Karbonn KC750, Lava KKT 30, Motorola XT 800


BlackBerry 9650(Reliance and Tata Indicom)


Micromax GC256 CDMA Mobile Phones, Micromax C275, Micromax Q35, Micromax GC360, Micromax Q5C


Out of the phones mentioned above, the Karbonn, Lava, Micromax phones are lesser in price. Other mobile Phones are higher in price. I am only discussing about cheapest dual sim CDMA and GSM mobile phone features and prices in India. The Micromax GC256 mobile phone is cheapest in cost and high in availability in comparison to other phones. The features and specifications of Micromax GC256 mobile phone is given below-

While talking about its features, it is good to mention that it is stylish bar shaped phone which is equipped with good talk-time. For security maintenance, company has added theft tracker so as to help users to find its mobile phone easily. It has 4.6 cm, QVGA display with dual SIM support which offers both CDMA and GSM network. It also has Camera, Video player and Stereo FM Radio for user's entertainment. Moreover, for connectivity and other support, it includes GPRS, Bluetooth and expandable memory Up to 1 GB.

The mobile phone dimensioned to the size of 103.2 x 45.5 x 15.1 mm with weight of around 83 gms. It has picture resolution of 128x160 pixels so to enable high quality pictures from camera and high quality videos from video recorder. The Talk time and standby life is same for both networks. It has around 2 hours talk time and 8 days standby time.