How to remove shutdown virus from your system?

Many users are suffering from shut down virus which will automatically shut down their computer system without giving any notification message and you are always in confusion how to manage and remove shut down virus from system. So, I am providing manual steps for the removal of shut down virus from computer system?


What is shut down virus?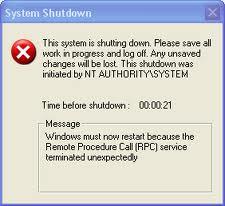 Recently, I have seen so many users who are suffering from the shut down virus that acts as an execution file such that when they click on an infected file, within few seconds it will shut down your system because time period is set by the unauthorized user who has made it.



It becomes too difficult for you, when it associates itself with the startup files such that when you restart your computer then it will consider your computer as host machine and try to associate application Software with it and infects their working and finally these associated files will also starts to act as the shut down virus.


How to remove shut down virus from your system?

The programmer and developer of shut down virus has implemented it such that even with single click on the infected file it will shut down your system. Many times, you come across the situation when you click on the Internet Explorer or Mozilla firefox then it will open its many identical windows in the system and within few seconds without displaying any message your windows will be shut down due to Virus affects.

The best way to get rid of it is to use Anti Virus software in your system that will be updated but in case your anti-virus will not work as it is outdated or some other issue then you can also remove shut down virus manually from your system. Therefore, I am providing the manual steps for the removal of shut down virus from your system which is given below-

1. First of all, every virus makes an attack on the Windows Registry settings such that it will automatically changes the status of the register documents (permanent status). So, registry settings needs to be edited. Therefore, open the registry editor for removal of shut down virus from your system by clicking on the start-> run-> type regedit there and press enter then it will redirect you to the registry editor. Moreover, the case may be there when some other class virus associate it with shut down virus then the windows will not allow you to open the registry editor. In that case you have to download the third party registry editor for making changes in windows registry.

2. Once you have open the windows registry settings tab then do not make changes with the default values because it may affect your system and then click on the "HKEY_CURRENT_USER" and then search for the shutdown autorun file that causes shut down of system periodically by pressing CTRL+ F and then modify the file by deleting the key value from that file.

3. After that go to the program files and then search for the shut down exe file virus and then delete infected file without opening and after that, immediately delete it from recycle bin. Instead of this, final step which is required is to open the task manager, in case it is disabled by the administrator then you can also enable task manager manually from the registry settings and once you have enabled it then click on the processes tab of task manager for searching of shutdown exe virus file which you have deleted from the program files.



Once you will found that file then right click on the file and then select End Process option to kill the shutdown virus.