How to allow pop up window in Epic browser

This article explains how to allow pop up window for some specific sites which is added to the exception list of pop up window blocker of Epic browser


How to allow pop-up windows in Epic browser

Epic browser is having lot of unique features compared to the other web browsers and it already made a huge impact on the web browser market. It makes other web browsers to change their future plan to include more innovative ideas like Epic browser.
While browsing web sites using any browser many of the sites which automatically open popup ads windows which will irritate the users. By default all of the browsers are enabled with popup blocker to block the popup window.

By blocking all the java scripts popup will some time end up with blocking some file download. Most of the sites will use java script to open a new page or to download the files will also get blocked when you block the java script popup.

In Epic browser we can allow to open popup window for some of the sites by adding the site name to the allowed list, so that popup window will not get blocked by the epic browser.


How to allow popup for specific sites

Epic browser is having an option that will allow us to include web sites which we want to allow opening popup window. From Epic browser Tools menu select Options... button to open options window (check the below screenshot).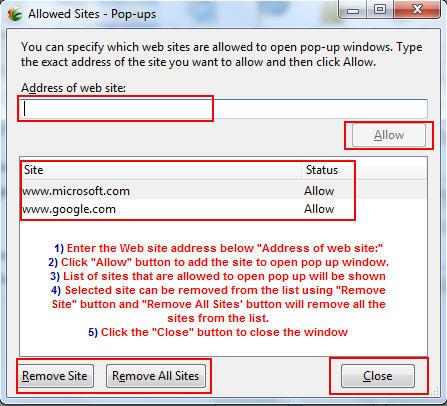 From Options Window select the Content tab to allow the popup window for some sites (Check the below screen shot).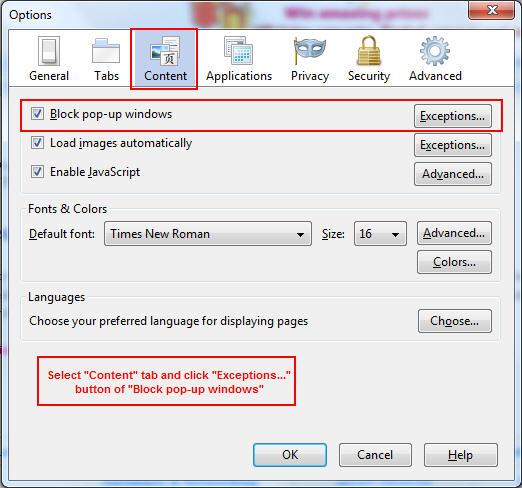 In Content tab you can see the Block pop-up windows option which is enabled by default to block all the popup automatically. Now we can allow specific sites or you unselect Block pop-up windows to disable the popup blocking for all the sites. It is not recommended to allow popup as it will allow spyware and adware to easily enter in to the system or ads will be automatically opened as a popup window for such sites.

Click on the Exceptions... button of Block pop-up windows will open Allowed Sites – pop-ups Window where we can add the web sites address to allow opening popup windows. You need to type the exact name of the web site address and click Allow button. You can add more than one web site to allow popup windows.

Content tab will list all the sites that are allowed to open popup window will be shown. Any time you can remove a site or you can remove all sites from the list, so that all the sites are not allowed to open popup window automatically. The web sites that are listed in the Content tab will only be allowed to open the popup Window. Click the close button to close the window. Now you can check the specific sites that are allowed to open the popup using Epic browser.