What is logic probe and why it is used? | Logic Probe to test Logic state of Digital Circuits

I will explain to you that what is logic probe and what is the use of it in troubleshooting of the hardware faults?


Logic probe

A logic probe is a low cost test equipment which can diagnose almost ninety present of the faults without the requirement of any tool.

It is a hand held equipment that is very easy to operate and of course very effective. It is used to find the logic state of any node of the circuit with the help of pulses and the steady states.

The internal circuit in a logic probe is so powerful that it can detect even very arrow pulses.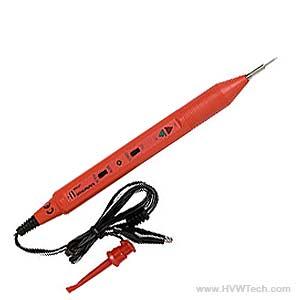 It looks like a large pen with an electrode at the tip instead of an ink cartridge and is used to detect the presence, absence or proper operation of the signal lines, both an external and internal connectors.

In fact the values of the cycles of digitals circuits voltages changes so quickly that it can not be measured by a standard multi-meter while the logic probe is enough capable to detect these changes.
It is also used in PC design process.

You can use logic probe to trace a printer problem, to show IRQ and DMA operations on I/O cards or some other problem just by clicking the signal changes by it.