Facebook - New Features and additions

Facebook has emerged one as one of the best social networking sites in the recent times, in this article I tell you briefly about Facebook.


Facebook



Facebook is a social-networking site which is owned by Facebook, Inc. It is a site which was released in the year 2004 and is now one of the major social networking sites after Twitter. Users of Facebook can add, message and chat with their friends like in all the social networking sites. The site has made some of the biggest changes in their site leading to increase in users recently, leading to more popularity for the site in the world. The site is one of the major revenue earners in the market. Facebook allows users to add school, networks, pages and colleges. Anyone above the age of 13 can start using Facebook without any obligations from anyone. The best feature of Facebook is the ease of searching people and especially old friends as the Facebook search lists out those people mostly whom we know and keeps giving suggestions to add users as friends. Now the website has more than 400 million active users all over the world.

Facebook comes in mainly two versions for normal users – The lite version for people whose internet connection is slow and the normal version for normal users. Facebook allows users to add photos in their profile and then allows users to tag your friends. Facebook has a feature called Notifications, through which the user is aware of all that is going on the site regarding him and other users commenting on his posts/photos. Facebook has one of the best photo sharing options which allows the users to tag people with no difficulty at all. The pictures that are tagged by other friends of the users can be seen in the notifications itself. Facebook doesn't allow changes in HTML coding of their profile and they like to rather keep it simple, which only allows plain text.

One of the best things about Facebook is that it has support in nearly all things, Facebook has special versions for smartphones, normal phones and other cells like blackberry. Facebook has now overtaken MySpace in terms of unique users and overall users. Facebook was first introduced exclusively for Harvard College but as the popularity of it started increasing so much Mark Zuckerberg had decided to make it public and since its public release in 2004 the site has been gaining some serious popularity. Facebook now has a huge number of applications in the site, these applications can be chosen by the user to either use it or to not use it. Applications in Facebook can be designed by anyone and can be submitted in the site for use by users of Facebook. Facebook has a little hard to understand User Interface for Novice users and can lead to some major confusions. If users once can understand the user interface, Facebook is the best social networking site. Facebook users can also subscribe for Facebook by SMSs which allows the user to set their update from messages even when they are on the move.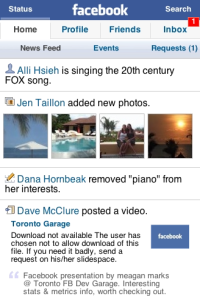 The Facebook Mobile
Features of Facebook
Wall – Facebook allows users to write on their Wall which can be viewed and commented by the other users.

Poke – This is a unique feature of Facebook it allows users to virtually poke their friends just for the fun of it.

Photos – Facebook allows users to upload, share and tag people in pictures and albums with their friends.

Videos – Facebook allows users to upload, share and tag their friends in videos.

Status – It allows the users to share and inform every one of their friends about what they are thinking, doing etc. and also allows other users to comment on it.

News Feed – Allows users to be updated about the activity of their friends and what are they doing. News Feed is of two types Top News and Most Recent depending whatever the user likes.

Tags – Allows user to tag their friends in their status, videos, notes and photos.

Gifts - Allows users to send virtual gift to their friends on the special occasions.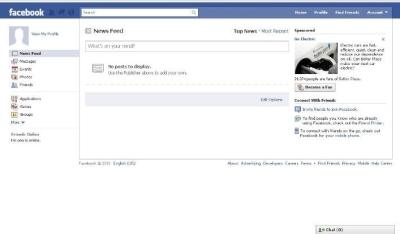 The new Facebook
Join MyWindowsClub official page in Facebook - www.facebook.com