Google Search shows wrong person as President of India

Google Search is showing wrong person as the President of India. Check out the details of this glitch noticed today.


Google Search went seriously wrong today about the President of India. It is showing an unknown person as the President in the Knowledge Graph. If you search for "President of India" or "Indian president", Google is showing something like this: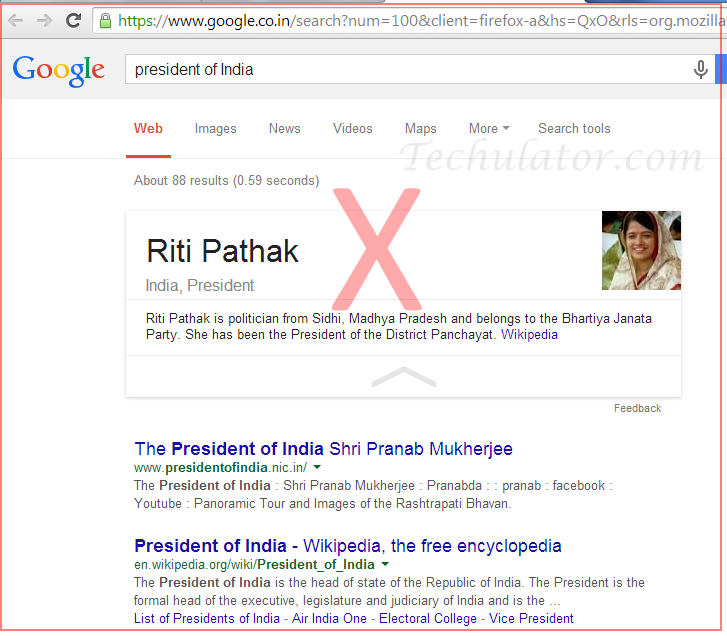 A woman named "Riti Pathak" is shown as President of India as part of the Knowledge Graph on top of the Google search results. The description below it reads like this: "Riti Pathak is politician from Sidhi, Madhya Pradesh and belongs to the Bhartiya Janata Party. She has been the President of the District Panchayat".

There is a link to a Wikipedia page about Riti Pathak, which doesn't have anything about the President of India. However, the editing history in Wikipedia shows that someone had edited that page earlier today and changed the name "Riti Pathak" to "PRANAB MUKHERJEE", which may have caused this error to Google.

This bug exists only if you use the search bar or omnibox on your browser to search. If you go to Google.com and search from there, there is no result shown from the Knowledge Graph and so the bug does not show up.

It is possible that someone purposefully changed the text in Wikipedia and then somehow submitted it to Google's Knowledge Graph immediately. Google describes the Knowledge Graph as a purely automated system and there is no provision to submit any information directly to it. Read more about Google Knowledge Graph.


Report the error to Google

Many of us have already reported this to Google using the "Feedback" link just below the wrong information in the search results page. As of now, Google hasn't corrected it and it is possible that the feedback hasn't reached the authorities. Let us all report it so that it will be escalated and get it corrected quickly.

How to see the problem and report to Google:





1. Search for "President of India" in the address bar of your browser

2. If you see the name "Riti Pathak" displayed in the top or right side of the search results, look for a link labelled "Feedback". Click on it.

3. You will see a small label like this: "Please report the problem." Now look for the link "Wrong?" just above the photo and the person's name.

4. Click on the link "Wrong?" which will instantly register the problem with Google.

5. You will see a small "Thank you message".

If we all submit a feedback, we can get this fixed soon!

UPDATE: The issue is reported to Google and is eventually fixed.

Read Top 5 Google Search Modifiers. How can you simplify your search results?