Review of Ninja Up Gaming App

Ninja Up is the latest gaming app by Gameloft and it is free to download. This 2D jumping game is pretty addictive. It does not feel like a typical Gameloft game with high quality visuals & audio. A tight focus is kept on gameplay mechanic. Read the article for a detailed review.


Gameloft is known for quality. The company has made many good looking 3D games such as Modern Combat 4 & Rival Knights and some fantastic movie tie-ins like Captain America: The Winter Soldier. Some of its releases have up-front prices but most are free and can be loaded with excessive in-app purchases. Ninja Up is the latest gaming app by Gameloft and as I expected, it is free to download. Ever since I got to know that the game is released this week, I have been trying to make some time to download and enjoy this much anticipated game. Finally, I got my hands on this game yesterday. I played it on my iPad as well as on my mother's iPhone. Trust me, the game feels equally enjoyable on iPhone's smaller screen. It is a pretty addictive game. Here is its review.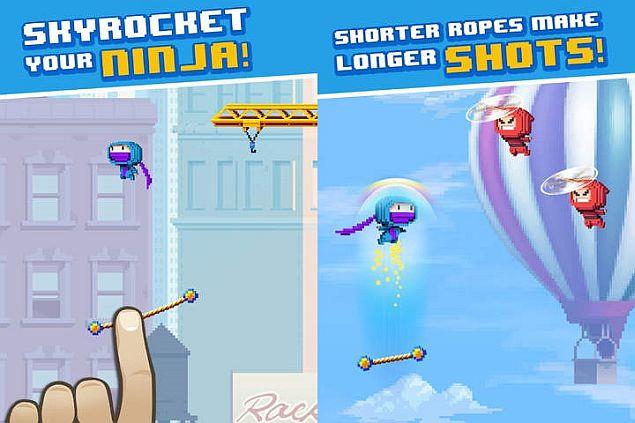 Gameplay

Ninja Up is a 2D jumping game. It is very much like Doodle Jump. The only difference is that in Doodle Jump, you keep rising upwards and can avoid obstacles by moving from side to side.

On the other hand, in Ninja Up you can't directly control the ninja as he bounces up. To avoid obstacles, you need to swipe the screen strategically. Adjust the direction in which the ninja bounces by angling your swipes and place trampolines for him to launch off. Short trampolines can make the little ninja bounce higher & faster but if they are made too small, you might even miss him on the way down.

In the beginning, there will be only cranes fixed to the sides of the screen and dodging them is easy but the game gets trickier when you start seeing other ninjas in the sky. These come in different colors- the red ninjas hang in one place but the yellow ones move from side to side. As you rise higher in the game, the obstacles will increase and eventually, you will crash into something.

The gameplay is very simple & straightforward but very difficult. Collisions are unforgiving. A single hit instantly ends your jump, leaving you to start again from the ground.


Drawback noticed
The visuals are not good and look quite whimsy. It appears that most backgrounds could be hand drawn. Little ninja and the obstacles appear so blocky that you wonder if they are made of Lego blocks.
Audio is again not good. The music is too noisy and fast. I found it too distracting and played the game on mute most of the time.
There are too many ads and this kills the game's momentum. The game is actually difficult due to too many obstacles and once you die, you have to hit the restart button to start again. As soon as you do this, at least one ad pops up, takes a couple of seconds to load and you will have to wait for it to end before you can start jumping. This is indeed the reason why Gameloft has kept the game completely free. The company is not attempting to make any money directly through this game as it is an attempt to advertise all their other Gameloft games. This delay is very irritating as it kills the momentum of the game.


Price & availability

The Ninja Up is completely free. There is no IAP. There are no timers or consumables to pay for. You can just download the game from Gameloft's official website and start having fun.


Verdict

The game is pretty addictive. Even if there are so many annoying ads, every time you lose, you want to see what went wrong and play another round to do better this time. Ninja Up does not feel like a typical Gameloft game with high quality visuals & audio. Its visual design is simple but a tight focus is kept on gameplay mechanic. Since it is completely free, you must check it out- it's worth it!