Top 5 free Android Racing Games

Want to know top 5 Android racing games? Then you are at a right place to find all the best Android racing games developed so far. I have provided a list of Android racing games which are available for free.


Are you tired of searching good racing games for your Android? Then don't worry, I have come up with my list of top 5 Android racing games which are available for free. If you like my article then please share it with your friends and show your love for my service. So, without further taking your precious second, let us continue reading the list of top 5 Android racing games.


Asphalt 8: Airborne


Asphalt 8: Airborne has proved itself to be one of the best racing games ever on Android devices. It has got 47 high performance cars which mean most of the collection of the world's best racing cars. Top cars include Ferrari FXX, Lamborghini Veneno, Pagani Zonda R, Bugatti Veyron and lots of more. Asphalt 8: Airborne has different tracks to test your racing experience limits. There are about 9 race locations including the Nevada Desert, Venice, Iceland and French Gulana. Asphalt 8: Airborne career mode has plenty of races to win. Its career mode has got 8 racing seasons and about 180 events to race.



Now, lets talk about its gameplay. I would not hesitate in saying that the Asphalt 8: Airborne gameplay is awesome! Gameplay includes cool aerial stunts, realistic car damage and HD graphics. Controlling & driving cars are easy, just like its predecessor series. Apart form its career mode, you can even get a good live racing experience in the multiplayer mode of Asphalt 8: Airborne. You can race with up to 8 rivals in a race and can also share your high scores to show that you are the fastest racer in Asphalt 8: Airborne. One more extra feature of this game includes fantastic audio tracks. For not letting your joy and gaming experience low, Asphalt 8: Airborne has got some of the cool audio tracks.
Additional details

Size: Varies with device


Requires Android: Varies with device



Real Racing 3


Real Racing 3 is another best racing games for Android devices. In this game, unlike Asphalt game series and Fast & Furious 6 game, you have to race on the racing tracks and not on city streets. The game has got the largest collection of high speed cars. There are 70 super cars and the manufacturers of cars include Audi, Bugatti, Porsche, Mercedes-Benz and Lamborghini. The career mode of Real Racing 3 has about 12 racing tracks which include the Circuit de Spa-Francorchamps, Circuit de Catalunya and Dubai Autodrome, Silverstone, plus Mazda Raceway Laguna Seca, Hockenheimring, and many more.



The unique feature and the best part of the game is - different camera views. The interior camera car view is the coolest view which provides the real racing experience. So, get ready to set your helmet and start burning the tyres of your favourite cars against the tough racing rivals on the famous tracks. You can also upgrade your cars to easily win more and more races. Real Racing 3 multiplayer mode allows to race the live people from worldwide. And its career mode includes elimination races, drag races, cup races and endurance challenges. So overall, there are more than 1500 events offline which will provide you real racing experience with interior camera car view for more time.
Additional details

Size: 41 MB and extra 1.5 GB should be free on your Android device


Requires Android: 4.0 and up



GT racing 2: The Real Car Experience


I am damn sure that this game is going to provide its user a real GT racer experience. The gameplay is quite nice. Just like Real Racing 3 game, it has also got different camera views including 'interior' camera view. This game will test your racing limits with about 1400 events. The career mode GT racing 2 has got different racing modes like duels races, overtakes races, classic races and knockouts races. GT racing 2 game has 67 awesome cars including Ferrari, Nissan, Ford, Mercedes-Benz, Audi and lots of more manufacturers. And 13 tracks to race on with your rivals. Tracks also include the famous real Mazda Raceway Laguna Seca.


Unlike many other racing games which have repair costs, GT racing 2 game has no repair costs or times. This is because the GT racing 2 developers do not want their users racing experience to go down. Multiplayer mode will allow you to play with your friends as well as other real players online from worldwide. You can also join with other teams to complete common objectives in multiplayer mode. GT racing 2 environments has also proved to provide a real gaming experience. You have to play in daylight tracks and sometimes in night tracks too.
Additional details

Size: Varies with device


Requires Android: 2.3 and up



Fast & Furious 6


Fast & Furious 6 has got everything for racing lovers. It has got good graphics, nice story, a lot of missions, online races and of course - a big cue of stylish & hot racing cars. You can upgrade the engines, suspensions, nitrous, etc. of your car to increase its performance. And can also customize you car with cool paints, spoilers, etc. Fast & Furious 6 story takes place in London. So now, its time to get ready to earn some respect among racers on the streets of London. Story missions are played offline but it has also got a lot of races, challenges & racing tournaments to win online. Another cool multiplayer mode allows you to join a crew and take out the top leaders online.



Fast & Furious 6 game has coin system and the coins will be needed for upgrading cars and other things in the game. So, for collecting gold coins, you have to take out thrilling heists with your car. So, get ready to take on the thrilling jobs and races for increasing your reputation. And the best part if the game - superior graphics. Fast & Furious 6 has got all covered in superior quality - from fastest racing cars to the racing streets.
Additional details

Size: 255 MB


Requires Android: 2.3 and up




Raging Thunder 2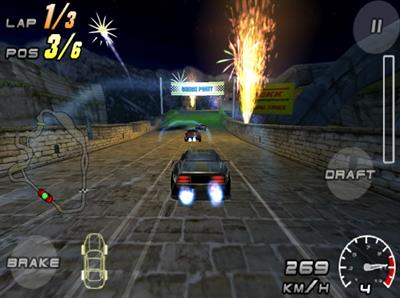 Although it does not have HD graphics but it will also provide you a fast racing experience. Raging Thunder 2 does not have heavy requirements for Android devices and hence, it can be played on most of the Android devices. That's why it has become a famous racing game for most of its users in a short span of time. The gameplay is very simple and even a newbie can easily get good positions in the races of this game. In the gameplay, you can use boosts or even do drafting for gaining high speed in less time.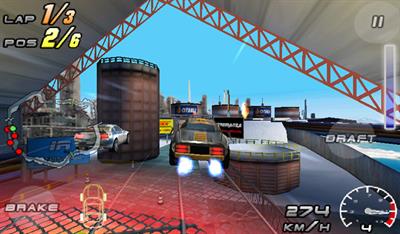 There are not of many cars to select from but even the limited cars of this game will definitely provide a joyful experience. The racing tracks include tropical beaches, the great wall, abandoned temples, snow-covered mountains, etc. Raging Thunder 2 has also got multiplayer mode. So, get ready to race and defeat your friends online. As I have told before, the graphics of the game are not HD but enough to provide you good 3D environmental conditions.
Additional details

Size: 19 MB


Requires Android: 1.5 and up


Well these are some of the top Android racing games which have attained high fame and name for them within a short span of time. If you have any queries or suggestions then please feel free to comment below and I will definitely be there to help you with all my guts. Share and like to show faith and trust in my service.

Read Top 10 free Android games that do not require internet connection