How to check your internet speed

Many times you felt your internet connection is not fast enough, even though you pay for a higher speed connection. In this post, I will talk about various tools that help you check your internet connection speed.


There are several ways to check your internet connection speed. The easy way is to use web based free tools which do not require installing any applications on your computer. You can visit the websites that offer Internet speed test services and check your speed online.

The results of the broadband/internet speed test will be more accurate if you use a speed test service hosted in your city/state/country. Some of the free online speed test services are hosted only in one location and may not give you accurate results.

If you are from India, you may use Airtel Speedtest services. Airtel allow you to choose your state and city and use a service closest to you. This will give you more accurate results.


How internet speed test services work?

Internet speed test service tools check the speed of your connection by uploading and downloading some specific packets of data to internet and then measure the time taken to complete this activity. This gives a reasonably accurate measurement of your internet speed.

The speed test can be affected by several parameters including:

1. The speed of the application used to test the internet speed. If the application has not well optimized and do consume some time to start and finish the test and do not accurately adjust this time, your speed may be reported inaccurate.

2. Speed of the server used by the tool.

3. Proximity of the server. If the website used to test the speed is hosted in another country, it is possible that the data used for testing may take extra time to reach the server and this could affect results.

4. Wireless connection. If you are using a WIFI connection, the speed test result may be inaccurate. Try to connect directly to your model when you are testng your internet or broadband speed.


Best online internet/broadband speed test websites

Here is a list of reliable online internet speed test services:

1. Airtel Speedcheck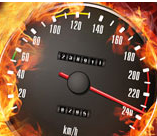 If you are in India, you can use Airtel speed check services to test the speed of your internet connection. Airtel allows you to select your state and city and provide a reliable speed test report;

Airtel speedcheck service reported pretty accurate speed for my Airtel broadband connection. One of the big advantages for Airtel speed test is, there are no Ads in the page and testing is pretty fast and relaible. Airtel speed test will work for all internet connections including broadband, dialup and any other type of connections.

Go to Airtel Speed check website.

2. Speed.IO speed test

http://www.speed.io offers reliable internet speed test giving pretty accurate results. There are Ads in the page, but it is not very confusing. Ads are clearly separated from the speed test tool and you can easily access the services. All you have to do is, click the "Start Test" button in the bottom of the tool. In less than a minute, it will show your download speed and upload speed which I found to be very close to the report given by Airtel speed check.

(Interestingly, the tool reported I am using an Apple Safari browser but I was actually using a Google Chrome browser.)

Go to Speed.IO internet Speed Test.

3. Ookla Internet Speed Test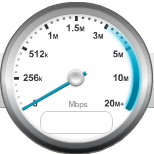 Ookla is a company which offers internet speed test service as a product to other service providers. In my experience, their seem to be very reliable and close to accurate.

If you run websites or if you are into any mobile/internet related business, you can by the speed test service as a product from Ookla and host on your server.

As an end user, you can use the free speed test service from Ookla, hosted in Amsterdam, Netherlands.

Click here to go to Ookla internet speed test.

4. InternetSpeedTest.in

This is another free speed test service provider, offering pretty accurate results in India. The only disadvantage with their free service is, the website is flooded with Google Ads. You need to figure out where to click and where not to click to test the connection speed!

Go to InternetSpeedTest.in

5. BroadbandSpeedTest.co.in

BroadbandSpeedTest.co.in is another free broadband speed testing service in India. The result seem to be pretty accurate and reliable. Site is not over loaded with Ads which is an advantage, especially for not tech users who have a tough figuring out which are Ads and what are not.

Go to http://www.broadbandspeedtest.co.in/

6. SpeedTest.NET

SpeedTest.NET is another free internet connection speed test service and uses servers hosted across the world. One advantage is, it can automatically detect your location and suggest an appropriate server for you. That saves couple of steps for you compared to Airtel speed check services.

However, in my experience, I found SpeedTest.NET is always reporting a much higher speed than my actual broadband speed.

Go to SpeedTest.NET Broadband speed test.

Read How to measure your internet speed accurately?