Thief 2014 Walkthrough Chapter 4: A Friend In Need

Have a look at Thief 2014 Walkthrough Chapter 4. This walkthrough provides you stealthy moves with the location of all the collectibles. Read this walkthrough to know more about the game.


Chapter 4: A Friend In Need Walkthrough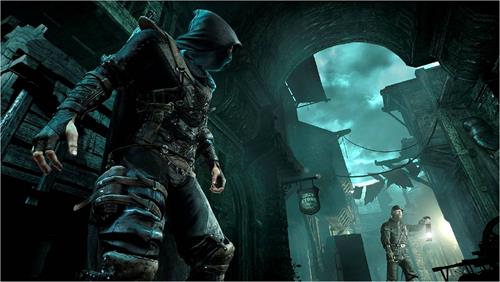 After going through Thief chapter 3 walkthrough, let's move onto the next chapter. First objective of this chapter is to go inside the Architect's grand house. The way towards your destination is very easy as there is no guard on the way. Just stay to the left side of map and this side will lead you to a large pipe. Drop on this pipe and then on ground and move very quietly because there is one caged dog nearby. So, it's better to move quietly on the left side once you are on the ground.

Once you reach near the "Grand house", you will see two guards on the front door of this house. Here, stay hidden until one of these guards goes away. Now, try to easily get inside the architect's grand house by this front door. It will not be difficult to get inside as I was easily able to get in without fully alerting the guard present there. While doing so, one guard will have some suspicion on you and before getting its suspicion on full alert, you will be inside the house (if done well). Inside the house, you will see two guards blocking your way to stairs. Here, you should distract them but before distracting them, make sure you have extinguish all the nearby candle flames. You can distract them by throwing a bottle in another direction or by once showing yourself to them. And when they would be distracted due to this, take this time as your advantage and move to the stairs.

These stairs will take you to a dark room with two guards. Take this darkness and corners of this room as your advantage. To make this room even more darker, you can extinguish fireplace with your water arrow. Now, search for a switch among books using your vision ability. After finding the switch, move to the "Study". In Study, you will find a ladder. Climb it and then search for another switch which is in the blueprint. This switch will provide you diorama puzzle.

How to solve the diorama puzzle: In this puzzle you have to make a toy tower from pieces just like the real tower, which you can see from here. While making the tower, start joining the pieces from the bottom. To join them correctly, use the real tower windows as your guide.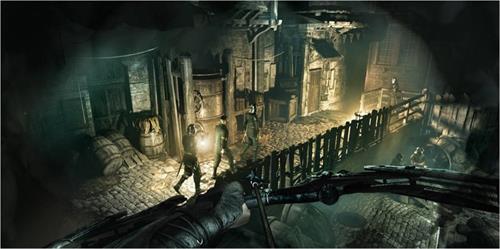 Now, for escaping this area, just move towards the tower. While going towards the tower, you should dash incoming rooftop and balcony. After this, Garrett will be on the ground level. When you will reach to the tower, you will encounter falling pipes, flame blasts and flames coming from pipes. You will also encounter several guards on your way but do not worry about them, just simply dodge yourself from the falling pipes and flame blasts. After dodging several of these obstacles, you will move to another area via door. In this area, your waypoint will lead you to a unlocked door. You can easily pick this door. After opening the door go to the elevator to reach the Basso. Here, after talking with Basso, you will head towards the "Great Safe". Now, go to the elevator and when elevator will stop, you have to climb up with the help of your claw. Then jump to the next elevator and reach the vent near it. Soon you will be inside the room where Great Safe is kept.

This room has a lot of guards but do not worry as there is a great advantage to you. Here, you will find a number of claw attachments which will help you to be out of guards' sight. Now, the only thing you have to do is to distract the guards. Distract them and whenever you find a good chance, go to the safe to open it.

How to open Great Safe: It's very simple, just press the two buttons which you will find on the each side of safe. These buttons should be pressed very quickly as there is a timer for these. And the combination of the safe is 3, 1, 9 and 0, 1, 8. And remember, when you will open the safe, it will make noise but do not think that this noise will attract guards because it won't do that.
You can check my next chapter's walkthrough here: Thief chapter 5 walkthrough