Thief review: Cheats, tips and tricks to play Thief

Thief has been in production since 2009. So, it has been more than 5 years since it is being developed. Is this game any good though? Let's check out the review of Thief.


Theif review: Introduction

The game that we have been coveting for what seems like an eternity now has finally been launched by the people at Square Enix. Wow, it seemed like that this game is never going to come out, like ever. But thanks to the responsive management that seemed to listen to fan outcries, we have a stealth-loving, throat-slashing and immortal thief roaming around the streets of the city and swooping on anything he finds precious and resalable. But the question that is yet to be answered is that is it worth the hefty price tag of $60? Should we pay this much for a game that is only going to last for 6-7 hours? What with the lack of multiplayer and co-op stuff that seems to be norm these days? Perhaps the most important question that will be swirling around your mind, does it contains any replay values or is it for onetime shot?


The answer to all the above curious queries is yes and no. I mean, there are different viewpoints of looking at this. Your old-school Thief fan heart is not going to like it at all, if you are looking for something akin to the old game launched back in 2003. Nope, it's merely a reminiscent of that great game. There is nothing to play here if you want that. If you are, however, willing to turn a blind eye on a couple of design flaws, you are going to fall in love with this game.



Thief review - Story elements

If you take glance back at all the Thief games done so far, you'll find out that they have never focused the arc on who the thief really is and what is his purpose. You don't need to understand any of these hackneyed cliches though. All that matter to us is gameplay. Nothing can match the joy of skulking upon nonchalant guards and sealing their purses without even letting them know. Why would we need any generic stories and force to follow a story-line? Just be pragmatic here. Why would a thief need a reason to stealth and strip everyone off their gear other than to survive and become richer? This is what they do and they do it to feed themselves.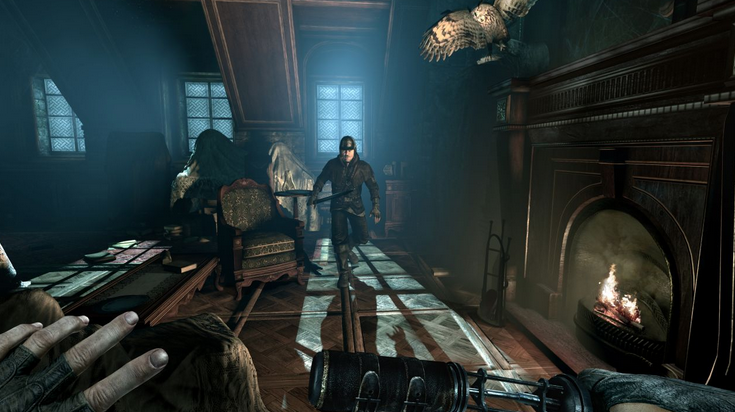 Although inadvertently, Square Enix has just left a wide gap open when it comes to story elements, and oddly enough, this is perhaps the strongest selling point of the game. What's ironic is, though, they tried to incorporate good intriguing storyline into Thief as soon as the development of the game started, but they failed miserably as they stumbled on every other step during the development. Everyone knew that Thief has been going through a floundering rough phase during the development. Most of us were even betting that this game would never see the light of the day because of some rumors that this game has been cancelled.

We still don't know what happened behind those closed doors, but whatever happened was not pleasant and it certainly didn't fare well for other projects, especially Thief. The failure to successfully market and sell an AAA console game is perhaps what has compelled them to change their focus and shift to mobile market. That's why we have been seeing more games like Hitman: Go, the turn based game being developed by them nowadays. Why wouldn't they be? Not only these games cost less and are less risky, but they also sell well when compared to core games.



Ambience is really stealthy

What will you do when you are a thief? Obviously, you are going to want to skulk up to some people and plunder their stuff. But to do that, there has to be certain level of ambiance which could enable you to actually attempt something like that. Thankfully for us, these handy environments are dime a dozen in Thief. The whole city has been plagued by a certain kind of irrevocable disease, people are dying and some have resorted to violence to change the fate. Every vigorous efforts seems like it will go futile as nothing is going to change for the better.

This is something you are going to have to face as soon as you are dropped on the gate of city. As soon as you'll enter, you'll notice that the city looks different than rest of the world. It's more dark and grimmer than the outside world. That's because of the plague. Moreover, that's what was needed in design to be able to create game like Thief. Who'd dare to loot something in broad daylight?


Can't scale certain things

As good as riveting as the concept may sound on paper, but morphing it into a game can be a real arduous and often impossible job. This is what has happened in this game. You won't be able to scale certain things, no matter how hard you try.



Gets you in the mood to steal and plunder really soon

What's good about the otherwise mediocre and broke game is that the ambiance is really good. It gets you in the plundering mood really soon. Once you are left at the doorsteps of the town, you are left for good. If you don't stalk and kill your preys, you are going to die anyway. So, if you want play the game like it's meant to be, you will have to be a killer. Now, if you don't want to kill anyone and are adamant on taking a non-violent root, there's one.


But believe me; you'd rather not want to take this path. But if you do intent to not kill anyone, you'll have to steal and beg. Either way, it's your game and it should be your choice as to how you choose to consume the game. It's not an open world game like Skyrim where you had your own choices.


Cheats, tips and tricks to play Thief

You can choose your play stealthily. If you want to go all guns blazing in Rambo style, you are free to do so, but it's not meant to play that way. A Thief game is meant to play, well, like a thief. If you can't immerse yourself in the world, the cost you paid for it will not be worth it as it's more than $70. A hefty sum, isn't it?

Shadows are the best friend here. You are going to focus on gameplay rather than scrutinizing how every cut-scene transpired. So stick to your best friend!

Here is the link to their official website if yo want to buy this game- http://www.thiefgame.com/agegate?locale=us