Top 5 Google Search Modifiers. How can you simplify your search results?

Not getting exact results out of Google Search? Here are some search modifiers from Google, try them to narrow your search. Read on to know how to get exact search results for your queries using search modifiers.


Google search algorithm update is a never ending process. It constantly tries to help us give the best and relevant search results to our queries. With the latest Humming Bird update, search has become easier for a person who doesn't even know how Google search works.

If you are still having irrelevant results for your queries, this article is for you. You"ll be introduced to some simple to use search modifiers to narrow your results. However, Google Advanced search helps you narrow down your search, these modifiers are better and easier to use. Here is a list of top 5 search modifiers.
1. "search"
2. -"search"
3. Inurl:search
4. related:search
5. Filetype:search


How to use "search" modifier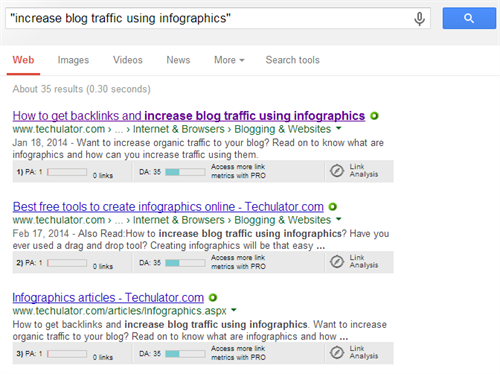 Say, you searched for "increase blog traffic using infographics" you may get additional results along with the useful ones. Using this modifier is simple, to eliminate those unwanted results, you can place your search query in quotes. This brings you the exact results in which your query is contained - either in title or in the description. Though this modifier is known to some daily Google users, most of the newbies miss this. I don"t think this modifier is of no use after next Google Search algorithm update. Yes, Humming Bird update itself has brought better and relevant search results. So, if you are still getting unwanted results, you may use this simple modifier.


Using –"search" modifier


The previous one brings you the exact results and this –"search" eliminates the exact text you don"t want in results. For example, if I wanted to search my name "Ravi Kandala," I can search the same query that I mentioned above modifier. But if I don"t want to see "Techulator" results in the search, I would type "increase blog traffic using infographics"-"Techulator" . That"s simple, the "-" symbol just subtracts or eliminates the text in quotes next to it. To my surprise I found a post with the same title and that"s been copied from Techulator. See how this operator helped me detect a copied post.


How to use Inurl:search?

If you want to search for profiles of people or obtain the results that contain your queries in the URL, this modifier can be used. Simply, type Inurl:search term in the search bar. The below screen shot shows my name Ravi Kandala within in the links. I got results in which my name i.e. the query is highlighted. So, try this search operator to get specific URLs you want.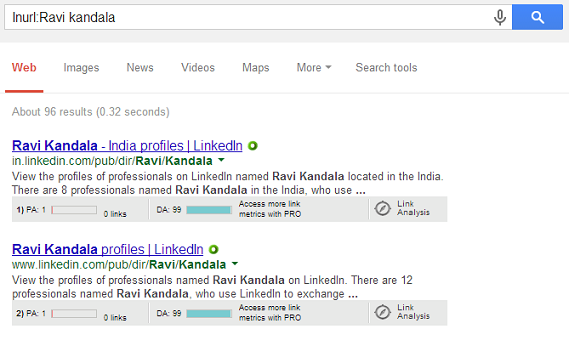 Using related:search modifier

If you want to check for the related results to a website you are familiar with, you can use this "related" modifier. For example, I wanted to search websites related to mashable, so I typed related:mashable.com in the search box. The screen shot below shows the related websites to Mashable.com i.e. thenextweb, giagom etc. This modifier works better for popular and high ranked websites and blogs; I don"t think it works for new websites.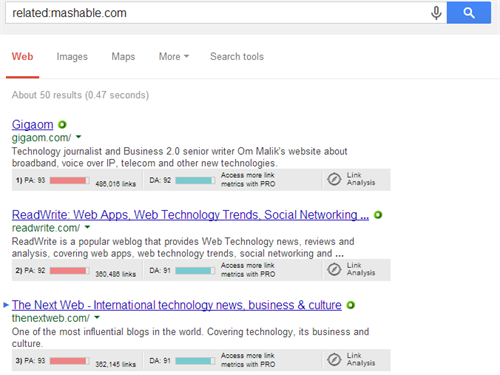 How to use Filetype:search?

We always may not look for web pages; sometimes we also need PDFs on a specific topic and from a specific website. So, how to get files that exactly we want? I just typed site:letsmakerobots filetype:pdf to get all the PDF files from that site. Below is the screen shot of what is shown to me, also you can search for different file types like XLS, DOC etc with this modifier.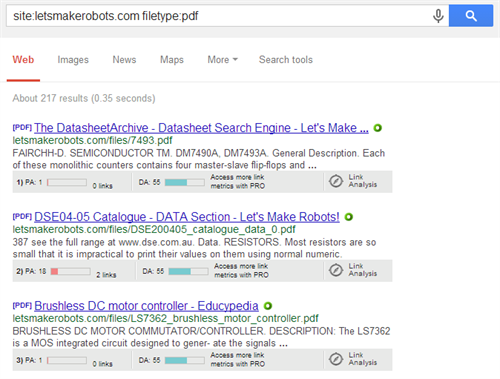 A few more modifiers

Besides the above mentioned ones, Google is offering more search operators like Intitle:search, search AND search, search OR search, cache, info etc. Get more information about these operators from Google Websearch. Modifiers or search operators may soon be of no use with Google's search updates in future. So, let us use these operators till that time to enhance and our search and kick out unwanted results.

Hope this information helped you. Have something to say?

Read Google Search tips, tricks and search operators