Tips, cheats and tricks to play Dayz Alpha: Dayz Alpha review

DayZ has been coming for a long time now. And now that it has finally arrived, we take a look at this amazing persistent shooter to see what goodness it has to offer. Read on to find out more about it.


Dayz review: How to play DayZ?

I am bleeding profusely now and have only few minutes of my life left, unless some kind should decides to waste his bandages and some precious medicine on me. But finding that type of person in DayZ is almost impossible. There is a high chance that I might not come across anyone else throughout my last few minutes and die in isolation. Even if I will come across anyone, they are likely to be flesh-loving zombies or a money-thrusting bandit wanting to loot me and thereafter kill me just for the fun part.

There you go. I summed up the whole DayZ game for you by explaining it pragmatically. This is what is going to happen to you most of the time when you lay it. You are going to die a lot, invariably and there is nothing you can do to prevent it. There is not online or offline cheat you can use to enable god mode and burst through all gun blazing on everyone. You can't do any of that.

If you want to play like a maniac like you do in Call of Duty, I am really sorry, but you are going to be disappointed. If you are a fan of realism and immersion, though, you will love every bit if this game even when you are shot multiple times, even when you are being kept as hostage for hours by some stranger.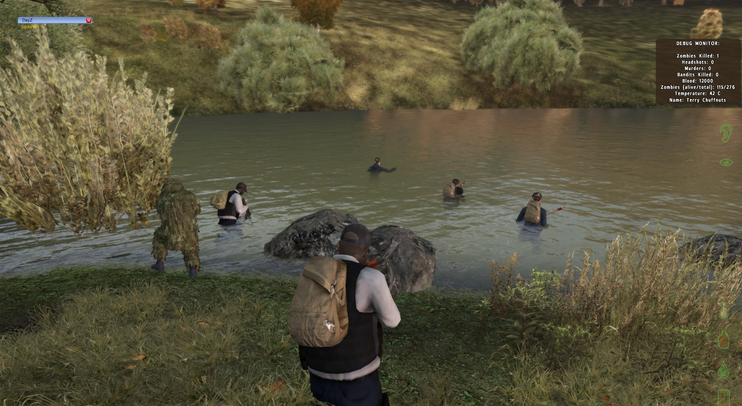 Tips and tricks to play DayZ

Just imagine what would happen if a zombie outbreak occurs. A large population would obviously be infected and remaining of us would ether try to survive cohesively, or just try to outdo each other and eat our own flesh for survival. This is what DayZ is all about; it's about surviving at any cost. It asks you a simple yet potent question; how long are you willing to survive? What will you do if you don't have any food, but the other guy who is not going to part it, has some? It's a do or die situation. You can't play a nice superhero type of guy. If you do try that, though, you are going to die even before you start getting the hang of everything.

I, for one, am done being a nice guy. After all, I too want to survive and have fun like others. And you can't do so if you decide to spare other players and not kill them on sight. They are going to stab you in your back if you don't. So there you go. It's not a game for a faint heart person. You have to sacrifice your innocence and be ruthless to survive in one of the most difficult conditions.

Guns and ammo are two of the rarest things in the game. If you are lucky enough to find one of them, you are not going to find the other thing so easily. You will either have some ammo without any gun, or you will have a big burly gun without any ammo. The latter is a better situation though, because then you can threaten others that you have a gun by pointing it straight to their face. Just hope that they don't know that it's empty.

Most of the time, it's going to work though as no one is going to suspect that you are fool enough to carry around a gun without any ammo. Just don't be too awkward when you are negotiating with your hostages.

It doesn't take too long for things to go awry in this game. Even if your victim has slightest of chance to turn the tables against you, they will take their chances, because most of the time, people kill their hostages for no reason. They would rather take a chance than be killed. So, you see, carrying an empty gun and pointing that t people's faces can go either way.


Coming to PS4, Xbox One

There is good news for people who were saddened by the fact that there is no DayZ for them on consoles. If you have gotten your hands on the latest next-gen hardware, you are going to be able to play DayZ on you powerful devices very soon. Dean hall, the founder of DayZ himself conceded that they have gotten the developing kits for both the next-gen platforms and have already started the development of it So there you go console owners. Brace yourself for some amazing survival sim.

Granted, it's not going to look as pretty as it does on PC, but at least, you'll be able to play it on a good frame-rate. Playing something yourself is better than watching it, right?


Delayed over and over again

It was scheduled to launch early 2012. From there, the game was nudged ahead to launched in 2013, but surprise, there was no sign of any release dates of any sort. What we got was an assurance from the developers that it's well under development. They just needed some time to cook it better.

Then all of a sudden, they decided to release the early alpha version of the game on Steam and since then, have never looked back. What's surprising is the game is so smooth despite only being in alpha stage. I am really excited to get my hands on the full game when it will launch.

Despite it being in early alpha, it has already won more than 1 million people over. Yes, it has already sold more than 1 million copies on Steam, courtesy of Steam Early Access feature where you can try a game early and pay for it if you like.

The huge number only speaks for itself as people want to play the first game of its own kind. We have never seen or experienced this kind of game before.


DayZ: A real fighter's game

Before you get excited and decide to head on to the store to buy this game though, let me warn you that it's not your usual "Press A to jump" game. It's a frustrating yet rewarding game which will test you on each and every step you'll take.
There will be times when you'll ant to throw it as a trash, but continue mastering this art and you'll see how deep this game is. Remember, it's all about survival. Don't show any mercy!

This was my take on it as I tied to pen the review of the DayZ without muddling the situation. What's your take on it? Do you have any tips, tricks and cheats for playing DayZ? Share what you have in store with us.

If you like this game, you are certainly going to love the multiplayer in Call of Duty Black Ops too. Read the review of Call of Duty Balck Ops to find out if that game suits your needs.