It is time to clear my Google Search History

To clear your browser's history is not enough! In order to clean your full search log, you need something more to do. Read the article to know about the Google Search History and how to clean that up.


If you are thinking that cleaning your browser's web history means that you don't leave any of your activity report behind then you're in a misconception. And I may tell you "yes, your activity report remains behind".

Actually everything you do on web is directly or indirectly linked with Google and I am not wrong if I say while you/me are Googling, every activity carried out by us gets stored not only as the browser's history but also as Google Search History.

Are you doubting Google for keeping your activity log? Then I may say in favor of Google, "good job Google". And it deserves such a say! The activity log that keeps getting stored automatically as Google Search History is only for the convenience of web surfers. It keeps one remind of his/her privacy affairs as well as helps when one has forgot some important links that he or she used before and feels a need of having its recapitulation.

However, Google Search History can be cleared off as just in case you feel it is the to clear that. So how to clean Google Search History?

This article will teach you some easy steps for cleaning up the log of your activities on Google web.


Clearing Google Search History

You can clear your Google Search History by following the steps given below:

1. Go to the Google Search History page. You can do so by navigating to Google.com/History. This navigation link is not limited to any browser. But if in case you are using Chrome, you can navigate to the page using the link or simply by clicking on "Web History" option under the gear at the top right of the browser.

2. First you will be redirected to Google accounts page. Sign in with your email/username and password and continue.

3. By now the link may have redirected you to the actual Web History page of Google. It is the page of a log of you searches.

Note that if instead of being taken to the Web History page, you're redirected to an exceptional page informing you that your Google Search History is off and whether you would like to turn it on, don't wait! let say it bye-bye by clicking "No thanks" option. Then it just mean that you have no search records stored yet at Google.

4. Encheck the searches that you want to be cleared. You can also encheck all searches in the certain page by clicking on the very first check box option.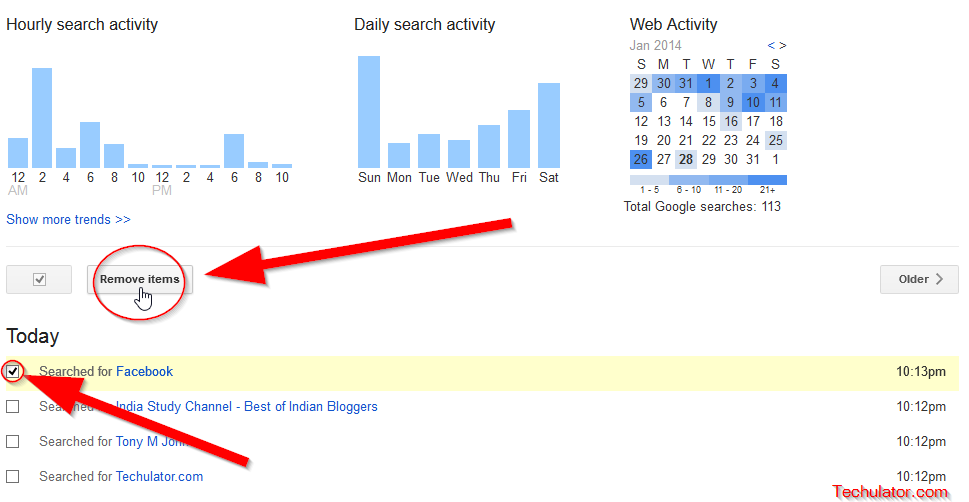 5. After you have enchecked specific or all searches, click on "Remove Items" option. Note that it is a permanent task and can't be undone.

So, you have cleaned your Google Search History now. And if you'd like Google never to store your search log, you can do turn off Google Search History. So how to do that, lets find out, very below:


Turning off Google Search History

You can turn off your Google Search History by following the steps given below:

1. Click on the gear at the top right of the Web History page. Select "Settings" from the drop down menu.

2. For security reasons, re-login to your Google account. You will be taken to "Web History Settings" page.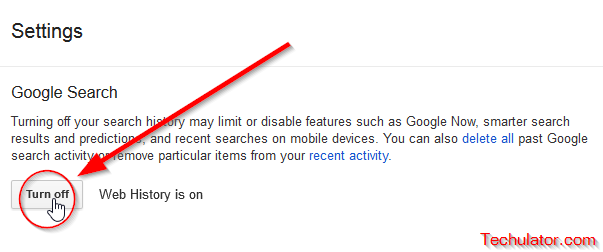 3. Click on "Turn Off" option and you're done! You can get the thing back to normal i.e. turning on the search history again by clicking back on the "Turn on" button that appears just after you turn off your search histories.


Conclusion

I hope that the above aspects with help you if anytime you think of no compromise of your privacy and clean up your old searches from Google's web history page. If you still have any doubts regarding the above, respond to the post and let me help you with my level best information.

Read How to submit your newly launched website to Google Search Index