How to sort Google Search results by date

Google search is an amazing tool on internet that help you find the information you want. The results are usually sorted by relevance, but it would be great if you could sort the results by date. In this article, I will discuss how to find posts from a specific time period, even though it is not really possible to sort the search results by date.


Google search is one of the tools that I can't live without. Starting from finding the nearest restaurant, I do use Google search extensively to find the current time Texas, currency conversion value, find news and articles posted in a specific time frame and so on.

Few years ago, Google search was just a tool to search websites. Now it has evolved from a search tool to an advanced tool that help you find almost anything you want, including sort search results by date.

I used to live in Texas and still have a lot of friends there. However, currently being in India, I always get confused on what is the current time in Texas, especially during the day light saving time. I do not want to wake up people in sleep, so before I make phone calls to my friends in Texas, I would open my browser (which is usually open all the time) and type:

What time is it in Texas

Google will display the current time in Texas in the top of the search results page. No need to open your clock and change time zone to find time of any state/city in the world. No need to open any websites. Google know what exactly you are looking for and it will be shown to you.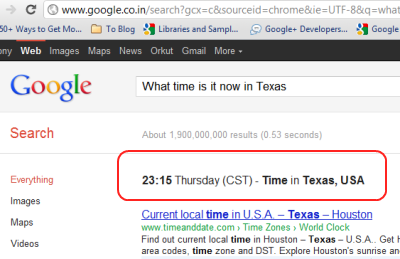 Similar query works to find the currency conversion rates. Simply search the following in Google:

100US$ in INR

Google will show the Indian Rupee value of 100US$.

With little efforts, you can master the Google search tricks.


How to sort Google search results by date

When you search for information in Google or other search engines like Bing, the information displayed in search results is sorted by relevance. Search engines will show most relevant information in the top. That is what most of the times we all want.

However, there may be cases where you want to find information during a specific time period. For example, if you want to find TOFEL exam related announcements during a specific time period, it is hard to get the expected results through a normal Google search. Sorting search results by date is a great advantage in such cases.

Unfortunately, there is no easy way to sort Google search results by date. One of the reasons Google cannot provide the search results sorted by time is, it cannot find the exact date and time the content was published. Instead, Google can only depend on the time it found the content on the web or certain meta tags used in the web pages which tells Google what time it was published. However, Google cannot fully rely on the time given in the meta tags since webmasters may attempt to trick the search engines by providing wrong time to take best advantage of search engine traffic. So, Google uses a combination of data to determine the publication time of content and include those information in the search results if it finds the information is reliable.

When you search for information in the web, you may notice that some of the search results are displayed along with the time and some others are shown without any date and time.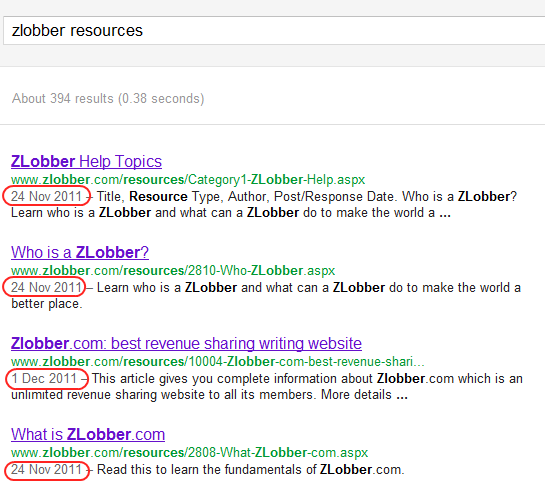 If Google is able to determine the time of publishing based on reliable information, it would show the search results along with the date and time.


Find content published during a time period

Even though it is not possible to search Google search results by date, you can still find content published during a specific time period. You can choose a start date and end date and ask Google to show only results published during that time period. The results are still sorted by relevance and not sorted by date, but the results would include only content published during the specific date range.

Follow the steps below to filter search results to the content published during a specific date range:

1. Open your browser and go to Google.com

2. Type the query you want to search.

3. Look at the leftbar of the search results. Scroll down and look for "Show search tools". Click on this link to see more search options.

4. You will options like Any Time, Past Hour, Past 24 Hours, Past Week and so on. You may click on one of this links to see search results of the content published during those specific times.

If you want to search for content published during a timeframe, click on "custom range". It will allow you to specify a start date and end date.

Read Year 2014 in Google Search lists - Top search queries and search trends on Google India