How to come up with unique blog posts in saturated niche like technology and health

Are you a technology or health blogger, struggling to find unique topics? Learn how to come up unique articles in a saturated niche.


I have heard numerous times that one of the hardest tasks for technology bloggers is to find unique topics for blogging. Most of the new tech bloggers focus on gadgets and app reviews and there is nothing new to write since hundreds of bloggers cover the same everyday. A few minutes ago, somebody asked the question to me in a popular blogger community called "Techism". Even though I shared my views there, I thought I will write in detail here.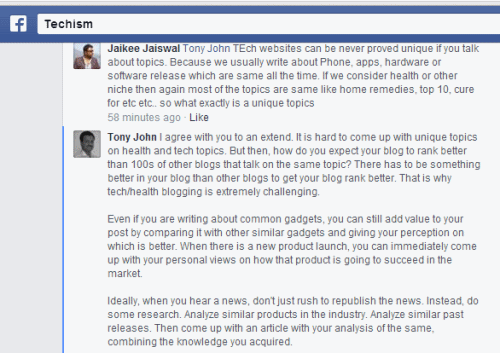 It is hard to come up with unique topics on health and tech topics, unless you do proper research and analysis. How do you expect your blog to rank better than hundreds of other blogs that talk on the same topic? There has to be something better in your blog than other blogs to get your blog rank higher. That is why tech/health blogging is really challenging.


How to choose unique topics on gadgets?

When you write about gadgets, don't just write about the product specs. They will be probably get ignored by search engines since a lot of blogs do the same and search engines can show only the best of best in the search results. Even if you are writing about common gadgets, you can still add value to your post by comparing it with other similar gadgets and giving your perception on which one is better. When there is a new product launch, you can immediately come up with your personal views on how that product is going to succeed in the market. When you write product specs, explain what that spec means to an end user. For example, if you are writing about smartphones and the phone you are reviewing has "Gorilla glass", you can write a few lines about "Gorilla glass" and explain how that will help the user. Also, mention few other devices using the same type of glass. That way, your spec based post will have a lot more than just technical specifications.


How to make news related posts as unique posts?

Ideally, when you hear a news, don't just rush to republish the news. That is the job of news papers, which get special consideration from search engines. Instead, do some research. In fact, a lot of research and analysis. Analyze similar products in the industry. Analyze past releases from the same company. Then come up with a research based article with your analysis of the same, combining the knowledge you acquired. Whenever there is a News to publish, you can do a good research and come up with a unique article that adds a lot of value, compared to the common news posts.


Make unique topics from any common topics

If you spend some time, you can come up with unique topics from almost any common topics. Let me tell a simple example.

"How to submit a disavow request to Google" is a very common topic and writing an article on the same is pretty much useless. I studied the topic for sometime and finally came up with a "unique topic" from the same topic: "How to cancel a disavow request". Cancelling disavow is nothing but submitting another disavow. However, I could present it as a completely unique article just by using the same information from a common topic.

So, in any niche, there are lot of opportunities to come up with unique topics from the existing common topics. You just have to spend a few minutes extra to think and come up with unique topics.

If you are looking for more ideas and tips on blogging, don't forget to read my blogging tips series.