Review of Vivo Xplay 3S - Experiencing 2K

After all the companies got into the Full HD league, it's time for the 2k screens to be witnessed in smartphones. Here's a review of Vivo Xplay 3S, the first phone probably with a 2K Screen.


2013 was the year when the world pushed ahead from all kinds of resolutions to full HD resolutions. Samsung, Sony and Micromax, companies from round the globe jumped on the bandwagon with their full HD smartphones. It seems 2014 is the year for 2K now, a step ahead of full HD displays.


What is 2K?

There are all kinds of resolutions, aren't there. After the retina display's super hype, it was clear that Apple has new rivals when phones like Xperia X hit the market with the hype of Full HD displays. Now, full HD is nothing but a screen resolution of 1920 x 1080. That's right, it the same resolution you still find in TVs of 40 and 46 inches size and that's what companies packed in screens sizes of around 5 inches.

But, 2K is a step ahead of full HD. Google out 2K and read more about what 2K is and what it's not and you'll find it pretty confusing. In a nutshell, all we'd tell you is, it's basically the resolution you usually watch in the theatres. It can vary in pixels in different cases.


Features

Vivo Xplay 3S is the first smartphone coming with a working 2K screen. Following are the features –

Design - Vivo Xplay 3S has a weight of 172 grams, which doesn't seem too heavy neither too lightweight. Having a resolution of 1440 x 2560, popularly known as the 2K resolution, the 6 inches screen of this smartphone has a pixel per inch density of 490, much more than most smartphones today. It can display 16 million colors, has multi-touch, light sensor and proximity sensors.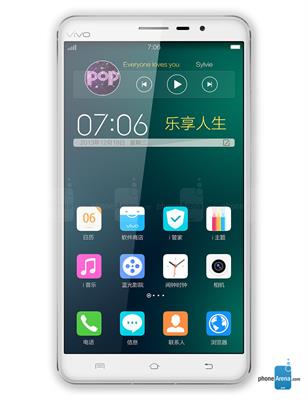 Camera and imaging - The Vivo Xplay 3S has a front camera of 13 megapixels and is equipped with a LED flash. It has a focal length of 28 mm and an aperture size of F1.8. Camera features further include back illuminated sensor, CMOS sensor, auto focussing ability, HDR and night more. Nothing new over there! However, it can capture 1080p videos with its 13 MP camera and has a front camera of 5 MP too.

Hardware - Following the trend of most android smartphones, the Vivo Xplay 3S also runs on a Qualcomm Snapdragon chipset (800 MSM8974AB specifically). There's a quad core processor and Adreno 330 graphics processor. One step ahead of most high end smartphones today that have 2 GB RAM, Vivo has taken a leap with 3 GB RAM. There's 2 GB ROM and a built in storage capacity of 32 GB. It can take in microSD and microSDHC cards in case you want to expand memory. Well, that much of hardware capability does give muscle to the phone and you don't feel inferior when you find another guy holding an Xperia Z, just because it's a Sony and yours is not.

Battery - The Vivo Xplay 3S has a massive battery life. Backed by a 3200 mAh battery, the Vivo Xplay 3S can run for hours without you having to worry to recharge it again. Our guess is a talktime of 13.5 hours on 2G and 7 hours on 3G with the specifications it has.

Media and Connectivity - The phone is equipped with a 3.5 mm jack like most other phones. There are loud stereo speakers on board. The phone is equipped with Bluetooth 4.0 so you're assured of fast data transfer speeds wirelessly. USB 2.0 for wired transfers. It can be charged via USB. Further, features include tethering, computer sync and OTA sync.

Other features - Similar to most android phones, the feature set includes further, features like gyroscope and compass. It can dial on voice commands and you're aided with Haptic feedback.


Overall Review

Having a quick second look at the specifications of the Vivo Xplay 3S, it's clear that most stuff is the same – either parallel or inferior to the present day high end smartphones. The one thing however, which gives it an edge is the 2K screen definitely. Sure, Vivo cannot beat giants like Samsung and Sony in the long run when it comes to sale statistics, but being the first to enter the 2K league is nonetheless an achievement for the company.


Rumoured Rivals

It is rumoured that Samsung has already started mass manufacturing its Galaxy S5 which too is equipped with a Super AMOLED 2K screen. If that's true, well, for sure Vivo's achievement will be forgotten and in all probability all other phone companies will be lining up their own contenders. The question however is, are we going to see another piece of surprise from Apple? After receiving a clear defeat when it comes to PPI, by a number smart devices, is Apple really not itchy, yet?

Read Review of Vivo Y15, my new budget smartphone