Micromax Canvas 4 Android Smartphone: Review, Features and Specifications

Are you looking of a review about the Micromax Canvas 4? The canvas device guarantees superior build quality and advanced smart features. Is it's really worth purchasing this device? What does make it different from its predecessor? Lets find out its new features, pros and cons.


Introduction

After the great success of the previous Canvas models, Canvas 2 and Canvas HD, Micromax brought out its fourth device in the Canvas models is dubbed as Canvas 4. Both of its elder siblings were quite successful in their respective price tags. The company has been able to grow itself in the Indian smartphone market as a manufacturer who offers the best value for the buyer's cash. Till now, the company has been able to bring in a huge portion of market-share with its competitive pricing. After being the largest domestic smartphone manufacturer, it's already trying to challenge the South Korean giant's, Samsung's, dominance in the country.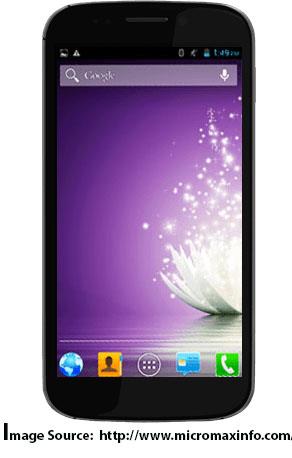 The Canvas 4 A210 is the Company's foremost gamble at a mid-range section smartphones, which at first glance looks like it's a combination of Galaxy S4 and iPhone 5.The canvas device guarantees superior build quality and advanced smart features. One thing that is similar in all the Canvas handsets is the 5-inch display panel. At first glance, I'm really surprised by the build quality of the new device, but after having a look over the hardware I felt that it was almost same hardware features I had seen in Micromax Canvas HD A116. In this review I would like to inform you whether its really worth purchasing the new canvas 4 and what does make it unique or different from its predecessor. Lets find out its features, pros and cons.


Build / Design

Micromax Canvas 4 comes in White and Grey color variants. I think the company is following similar design aspects that we have seen in its predecessors, Canvas HD and Canvas 2. By examining it closer you can notice that the handset looks a tad bit more polished than its forerunners, though it's still a bit plasticky. It features a nice sleek profile with device girth only close to 8.9 millimeter and weighs around 158 grams, which is a moderate weight and does not find quite heavy with time. The front of the device is covered with the 5-inch display panel and down below you can see three capacitive navigation buttons - Home, Back, and Options. These buttons come with backlit, and provide haptic feedback when you touch it. Above the display, you can locate a chrome grill that functions as the earpiece, the sensor array and the 5 MP front facing camera are positioned. The device is surrounded by an aluminum frame in the center, the company claims it works as an antenna, the high-grade removable plastic back and the flat display gives a premium look to some extent. Though it appears premium, it makes the handset slippery while using it. But, of course, the aluminum chassis throughout the edges does make it much stronger to survive the falls as well as giving it a premium look. The canvas 4 is designed in a way such that it well fits in one hand and does not feel too bulky. The Power / Screen-lock key is positioned at the right side of the device, while the Volume rocker key is added at the left side. Both of these keys are also designed with metal but are a tad rickety as they're not tightly fixed and don't provide much confidence in how long they will last . At last, the top of the handset houses a 3.5 mm audio jack port, while the micro-USB port is at the base.



Flipping the device back, the rear panel has got a plastic finish and the device is available in two color variants: white and dark grey. I felt, the white one looks a bit cheap when compared to dark grey one. However, the glossy back cover is highly vulnerable to scratches and smudges. The 13 MP rear camera is positioned towards the top right in a round chrome ring, alongside an powerful LED flash and a microphone. Moving towards the center, you can find a silver Micromax logo positioned in the center of the back and, sadly, it spoils the design. Also you can find a Micromax branding at the lower portion, just on top of the loudspeaker. By removing the plastic rear cover requires a bit of effort but you will get used to it. Opening the back cover exposes 2000 mAh battery compartment, similar to Canvas HD. The microSD card slot and two SIM card slots are positioned just on top of the battery compartment. This device uses standard SIM card slots (two slots available), much like other Android handsets from the company. Overall, the fit and finish of this device is much better than its elder siblings. For the higher price tag, I do wish the build could be little better though.


Display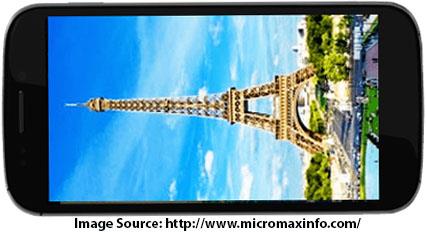 The Canvas 4 comes with a 5-inch HD display boasts a resolution of 720x1280 pixels and a color depth of 16.7 million. It sports an IPS type display panel with aspect ratio of 16:9. The capacitive touchscreen display used in this device is sufficiently vibrant and it has got 294 pixels per inch over 5-inch display so that you can't find any pixelation. I found texts, icons and images look much more sharper compared to qHD displays and, of course, browsing Internet using this device was not an issue. And, games also all look crisp on the handset. The color reproduction is fairly good and adequate, but not much impressive. But it is significantly much better than its predecessor, Canvas HD. Under sun visibility was fairly good, though the screen is very reflective. Even though I couldn't find much issues in reading texts under the sunlight. Thanks to the IPS display panel, I found that the viewing angles were great, which simply means that several people can view content playing on the display properly, even from various angles. I also found that the touch response of the screen is a lot better than most budget android phones out there. In terms of the protection of display panel, Micromax provided Corning Gorilla Glass. But the Corning Gorilla Glass version is still unknown, which is used in this device for the protection of its display panel. Though, the good news is, you can use the display without worrying about it getting scratched.


Camera

The Micromax Canvas 4 boasts a 13 Megapixel rear camera and a 5-megapixel front facing camera. The front camera used in this device is much better than any other mid-range smartphones now available and it is quite good for HD video chat. But, rear Camera used in the device works vaguely better in day light where as in indoor shots you can notice a lot of noise throughout the entire image. Even with the LED flash, targets are illuminated quite well within some particular distance but I found there's an unusual level of noise seen on dark areas. Here, the company used a powerful LED flash, but sometimes it makes the image look washed out. Taking macro shot is fairly good using the back camera but make sure to keep the handset at the right distance and use tap to focus to focus when taking macro shots. Auto focusing requires some time to focus. So if you take out the device and try to grab a shot quickly, then the result might be blurry. You also have to be still while grab Images, otherwise, the result will be shaky if your hands are shaky. On the downside, the camera used in this device is a bit slow. I have also seen that there is slight delay between two continuous camera shots in the continuous shot mode. This will make it hard to grab shots quickly. In order to bring more beauty to captured images, you can use the camera app features, which includes HDR, Face Beauty, Smile detection, Panorama, Photosphere modes, Exposure compensation. It features a burst mode, allowing users click up to 99 continuous shots at one click. You can also find a photo mode that let users to change settings like Exposure, white balance, color effect and ISO among others.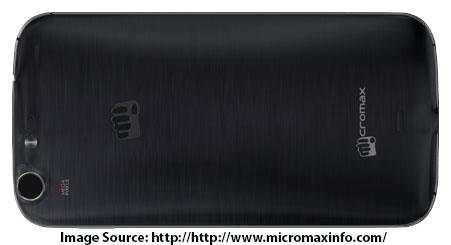 Its camera can perform recording full-HD video and provide high quality output based on the ambient light. Even so, it saves captured video clips in 3GP file format instead of MP4 file format. The frame-rate is quite stable, but here also, I found color noise problem while shooting video in low-light conditions.


Softwares

Micromax Canvas 4 runs on Android 4.2.1 Jelly Bean operating system. Here, Micromax has customized several elements of the user interface, such as the Settings menu and the app icons. The device also features four themes, namely Mocha, Mint, Raspberry and default theme. And, I couldn't able to find any major change in its user interface. There are various unlock options such as Face Unlock, Slide, Password, Pattern, PIN and Voice Unlock. Like most other Android smartphones, this one also has five customizable home screens that can be loaded with app shortcuts and widgets. You can even use widgets lock-screen widgets, such as Messaging widgets, Camera, Clock, Google Now as well as widgets offered by third party apps installed on your device, in lock screens. These lock screen widgets provide you with important information from the apps and enable users to do specific app actions even if the device is locked. It's got Google Now, however, you can't jump on it from the lock screen by swiping up or by holding the home button. But you can insert the Google Now widget on the lock screen. Keep in mind, you can't use the lock screen widgets in case the blow to unlock feature is turned on.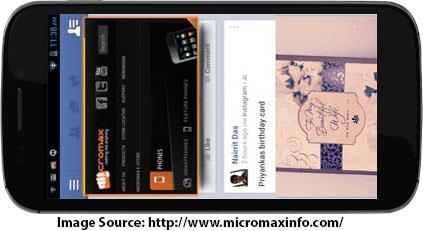 Micromax comes with an alternative way in which you can unlock your device. You can blow air on the display panel or shake the device to unlock it. This feature really works. But, the drawback is the in case the blow and shake feature is turned on, you can't make use of the conventional swipe to unlock feature. However, I really don't impressed with Blow air to unlock feature, because, it may automatically unlocks the device even if you sit under a ceiling fan. One feature that I really liked on this device is the capability to view a video in "pop out" mode on the display panel. The company has also included a brand new Video Player app within the device which offers functionalities like 'Pause on look away' using the front camera to identify whether you're looking at the display of the device, and automatically resuming and pausing videos. I've only seen this feature in high-end android smartphones like LG Optimus G Pro and Samsung Galaxy S4. Its really very appreciating Micromax brought this 'Smart Pause' feature into this device and it works pretty well. I found there is a tad of lag in between the video playing and pausing. Even so, it paused all the time I moved away from the screen. But, in real world problems, this functionality randomly pauses the video playback, which may become very irritating at times. Its video player also enables you to preview one video during running another one, and watch videos on a floating player window while performing some other work via its pop-out feature. Talking about the video playback, the device supports DivX, MP4 and MKV formats out of the box.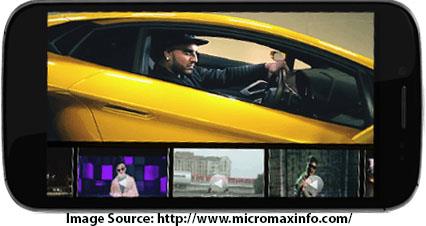 Moving to the music player, I'm really not impressed with it and appear like a cheap replica of Metro Interface. Some Gesture controls have also been included in the Canvas 4. These include way to check out incoming calls automatically by keeping the device near to the ear, dial a number by moving it to close to ear right after selecting a contact, modify the profile to silent by turning the device upside-down, put an incoming call on silent by turning the device over and holding it down, and turn on the speaker phone on a call while you turn the device upside-down. All the features worked quite while I tested it. Additionally, Micromax has incorporated a few of its own apps such as content stores, M! Live and Game Hub.


Performance

The Canvas 4 is run by a 1.2GHz MediaTek quad-core processor along with 1GB RAM, and PowerVR SGX544MP GPU for better graphics performance. The device comes with 16GB of inbuilt storage, out of which only 10GB is available to the user, and remaining goes to the operating system.With Android 4.2 Jelly Bean OS, thanks to the device's quad-core processor, the overall experience of navigation via the interface was awesome. I couldn't able to find any lag while launching apps, switching between the apps.

Speaking of games, I could able to play some popular HD games, such as Shadow Gun, Real Racing 3 and NFS, without any hiccups. But, I found some delay in launching NOVA 3. I could also able to play full-HD video clips, though I experienced some problems with audio while playing an MKV format video. This was easily resolved by using a third-party video player app, MX Player. The response of the touchscreen used in this device is really good. Therefore, browsing Internet and scrolling pages was not a problem. The keyboard used here is stock Android and is nicely laid-out. Speaking about sound quality, it comes with a speaker that offers average quality sound at higher volume ranges, but I could able to hear some muffle while the device lies on its back, mainly because the speaker grill is positioned on that side. The headphones got along with the device deliver average sound quality. Surprisingly, the Call quality on the device was really good and I couldn't hear any noise while calling.

Talking about the battery life, the device comes with a 2000 mAh lithium-ion battery, just like the Canvas HD. It provides a day of usage if you are an moderate user, but if you use Wi-Fi, 3G and play HD games, then it'll last only half a day. The phone doesn't't come with an unique power saver apps or power saving mode to increase the battery life. I Wish Micromax would come with a huge capacity battery. But, for a 5-inch quad-core Android smartphone, I think the device's battery's performance is pretty descent.


Conclusion

Overall, the Micromax Canvas 4 A210 is not a massive upgrade to its predecessor, Canvas HD. The Canvas 4 features a better build quality, much better rear and front cameras, 16 GB of inbuilt storage space, has also offers extra software features, including 'smart pause' feature and video 'pop out' feature compared to its elder sibling. Most importantly, it is the only Micromax phone yet spotted with excellent build quality. Considering its 5-inch IPS display along with quad-core processor, it delivers comparatively better battery life than other mid-range android smartphones. Even though, at a price tag close to Rs. 17,000(according to current snapdeal price), it's a tad expensive compared to other mid-range smartphones from various manufactures. If you can don't care about its price tag, then don't worry, go for it. But, I'd recommend you to wait for price cut or buy phones with similar specification, which is available in affordable price.

Pros

• Stunning display
• Excellent build quality
• Good performance

Cons

• Slow Camera
• Average battery
• Expensive, compared to other mid-range smartphones with similar specs

Read Online deals for Micromax A116 Canvas HD