Twitter to be made accessible on basic mobiles with no internet connection

Twitter recently successfully launched its IPO that rose its value to $25 billion and now is on a move into emerging markets. Reuters reported that blue bird is going to tie up with U2opia to launch text only twitter. This service benefit basic mobile phone users to access twitter without internet connection.


Twitter Inc is going to tie up with a Singapore based start-up U2opia to make its service accessible even on mobiles with no internet connection. This service is mainly focused to attract emerging markets and give them twitter experience. Accessing social networks without internet connection is not new to us. Facebook and Google Talk can be accessed without internet just by dialing simple codes like *325# for Facebook. These two giants uses U2opia's service Fonetwish to provide service for those who don't have a data connection. Now, Twitter added themselves to the line.

Wondered how this works? U2opia uses Unstructured Supplementary Service Data (USSD) protocol that is used by GSM phones to connect to service providers. However this service only displays text and cannot display videos or any kind of images. Facebook without internet is now accessible in countries like Bangladesh, Brazil, Colombia, India ,Malaysia, Nigeria, Pakistan, Sri Lanka etc. Twitter's 230 million users and emerging markets like India, Brazil will get benefited and this may help twitter grow further.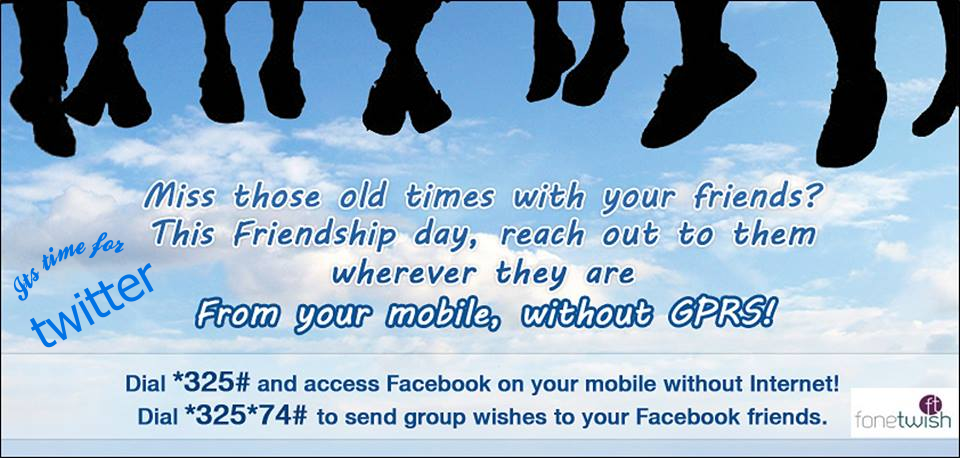 Twitter is by blood a character limit service so, offering service for twitter would be more easier said Sumesh Menon, CEO of U2opia. This service may increase its users particularly new users who hasn't experienced it before. But there would surely be mazes for Twitter with this service in countries where smartphones market is growing at faster rates.

"U2opia, which has its existence in 30 countries and in seven international languages, will localize Twitter feeds according to the location of the user" reported Reuters. Also, U2opia gets more than 30 per cent of what customer pays to service providers.



Can this service find any fruits in India?

There's the second side where people are more specific about digital world i.e. they are more interested and prefer pictures to normal text. Moreover, smartphones are becoming more popular and they are even available at cheaper prices. If we go through the smartphone and internet users in India, it's a big rise. Smartphone users in urban India are 51 millions and this is a 89% increase when compared to figures of 2012. The same growth can be experienced in sub urban and rural India in the next 5-6 years where low cost smartphones from Karbonn, Celkon etc are trending. So, how can this new service cope up and attract those who are trying to shift to smartphones and access internet.

The free Facebook service available today is not being used up to the marks in India and similarly Google talk. So, I think the same results Twitter sees in India and the similar countries. Let's see what happens.

Read How to grow your Twitter network?