Google PR update confirmed - but no official information from Google yet

So many websites saw an increase in their PR. Did you check yours? Read this post to know more about the PR update currently going on.


Many bloggers have reported that a Page Rank update is going on. We have confirmed a PR change in some of our blogs and websites as well.

There is no official confirmation from Google yet about the December PR update. In fact, Matt Cutts from Google has mentioned earlier that he will be surprised if there is a PR update this year. But it looks like Google surprised Matt Cutts with this unexpected PR update.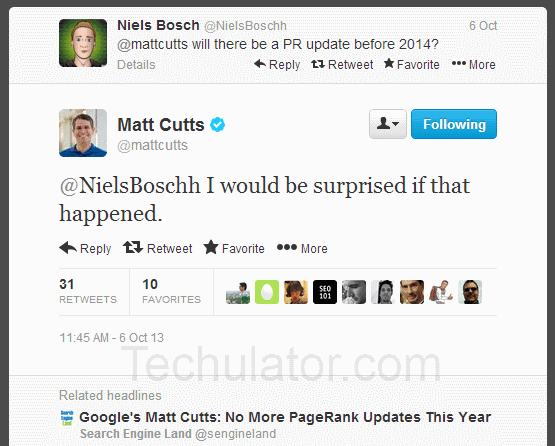 The webmaster community have been believing that there will be no PR update this year, however, today Google silently pushed the PR data without any prior information.

Since quite a lot of time, so many webmasters over the world were confused, worried and a bit annoyed too because there was so much confusion as to which website has what PR. In case you do not know what PR means, let me do a bit of explanation. PageRank is the reputation of your website or webpage in the eyes of Google. A little bit of research would be kind of enough to explain it to you how people thought PageRank of a webpage is decided.

When the concept of Google PageRank was still fresh in the world, people had their own formulas of calculating the PR. Some people thought Google chose the over number of web pages on a particular website to decide its PR. The more the number of webpages on a given website, the more chances it has to have greater PR. Some people thought Google had a team which kept track of who was doing what on the net and the person with highest traffic would be awarded a higher PR. The most popular rumour however (which prevails till date) was that the greater the number of backlinks a page has, higher would be its PageRank. Now, assuming that you don't know what backlinks are – they are active links referring to your webpage. They may be lying somewhere on some other blogger's article or some public forum or maybe some question-answer website.

But since Google+ came into scenario, people started forming their own guess stories. Some would say the more number of Google Plus Ones a webpage would have, the higher its chances would be for having higher PR. Then recently people started assuming that websites which are writing some genuine content are supposed to have greater PR.

But it seems that Google is trying to play that hot girl in the bar who likes to maintain her fictions. It hasn't ever revealed any formula as of yet as to how it decides the PR of any website. They've just been sprinkling some encouraging tips which would point to the fact that the better you write, the better you'll be rewarded.

Recently, there was a lot of buzz going on in the underworld of webmasters because websites which didn't deserve enough PR had more and the ones which deserved had 0.5 or 0 out of 10. Though it seems that Google had officially announced that there will be no more PR updates by Google, it seems they've pretty much left the whole bloggers' and webmasters' world surprised. Today, a lot of websites were found being shown greater PRs. However, one astonishing change in the PR system of Google to the websites was that this time, not only have some websites gained in PR, some have even lost it. I know a friend's website which had a PR of 5/10 and is now reduced to 3. We, at Techulator however are lucky that no such disaster occurred to us.

Though there has been no official confirmation from Google on PR updates yet, shall we expect them to see them unveiling and giving this gift to the webmasters on Christmas eve?

Did your site's page rank changed today? Share your updates as a comment below.

Read How to make my blog rank first in Google