Review of Karbonn Titanium X - A Local Smartphone at Rs. 18,500

Recently, Karbonn launched it's latest smartphone the Titanium X, at the hands of the Union Minister of Communications and Information Technology, Mr. Kapil Sibal. Is the Titanium as good as Micromax Turbo, its closest rival? Go through our review of the Titanium X and find it out yourself.


Gone are the days when international manufacturers had their monopoly in the Indian mobile phone markets. Gone are the days when most people were found using the Nokia 1100 and nobody dared to even think that a company from the local can turn wheels in the market. Today, the Indian market is booming with phones manufactured by Indian companies. Not only is it a matter of pride for India that we finally have our own companies which are able to show a feat in the market, we have a dream and a rare possibility that someday we may have an Apple of our own. Too farfetched, eh?

As of now, we have our Union Minister of Communications and Information Technology, Mr. Kapil Sibal who launched the Titanium X, the latest android smartphone from Karbonn. As per the Executive Director of Karbonn Mobiles, Mr. Shashin Devsare, they want to make the youth, the Generation X to live and experience the fast lane!


Features

After Sony, Samsung and few more big names threw in their smartphones in the market in the 40K+ league (which most would say was in pursuit of matching the price standards of the then newly launched iPhone 5), our Indian brands like Micromax and Karbonn too want a league of their own.

When it comes to features of Karbonn Titanium X, well it does have a lot in store for the Android fans.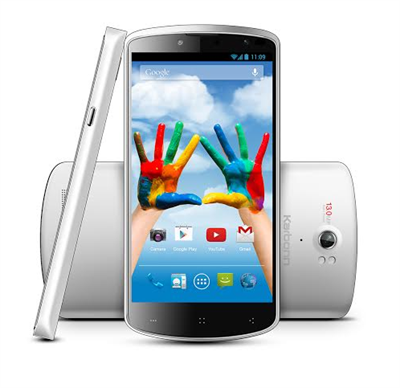 Display - After Sony's Xperia Z and Samsung's Note III, it seems it's turn for the Indian brands like Karbonn to throw something into the Full HD screens league. The Karbonn Titanium X boasts a full HD screen of a resolution of 1920 x 1080. It has a One Glass Screen giving the screen longer life and is an IPS display. As far as colour production is concerned, the phone works brilliantly.

Hardware - The Karbonn Titanium X is powered with four different chips, designating it as a Quad-core processor buggy with a brilliant speed of 1.5 GHz. Though the iOS is known to deliver much more smoothness in much more hardware features, since it's Android we're looking at, it seems a quad core is not a first of its kind in the Karbonn Titanium X.

Battery - When you're talking about smartphones, their big screens and all the tantrums they throw at you (or for that matter, you throw back at it), it's necessary that you have a durable power supply to the phone. The Karbonn Titanium X is blessed with an enormous 2300 mAh battery to take care of all of it. With the battery of this kind, the phone on an ordinary day should be able to deliver a talktime of at least 6 hours on 2G. However, it only differs so much.

Camera - The Karbonn Titanium X has a 13 mega pixels camera with autofocus. There's dual flash so that you're sure you get the best pictures in low light conditions. There's also a front camera, 5 mega pixels in resolution and it has a flash too. So, finally the dream comes true when you can actually switch onto Skype, flash the front camera and make your bestie go 'nooooo' for you. The rear camera is also blessed with face detection technology, smile detection. It can record in 1920 x 1080 resolution and can take panaroma shots.

Memory and OS - The Karbonn Titanium X runs on the latest version of Android, i.e. Android 4.2 Jelly Bean and it functions well. The phone is also equipped with an on board memory of 16 gigabytes, so now you don't have to worry to connect your smartphone to your laptop, empty some stuff so that you can go on the next trip with your bunch of pals without fear of lack of memory. Talking about active memory, there's 1 GB RAM which doesn't sound too much these days, actually. One thing we did like (although it's not an exclusive feature) is OTG. Now, OTG stands for USB On-the-Go. You get a cable which you can thrust directly into your phone's microUSB port and connect the other end of the cable to your USB drive and enjoy the data on the other device. In a way, it seems like you can carry 4 pen drives now with your favourite songs in one, and your favourite full HD movies in some more. So, in a way now those threatening phrases like 'expandable to 32GB' does not make too much sense. You can use any flash drive through OTG upto 32 GB.

Connectivity - Talking about connectivity, there's nothing new. There's WiFi, GPS, 2G, 3G, and lots of all that. Yeah, it does have NFC support as well for hassle-free quick transfers on the go.

Other Features - Now, there are some new and exclusive features, we'd say this phone has in store for those who want a 'smart' smartphone in budget. Karbonn Titanium X boasts something called the 'Intelligent Answer mode' switching on which lets you attend calls merely by bringing the ringing phone near your ears. You don't have to press buttons or swipe your fingers across the screen to take calls anymore. Then you have 'Direct Call' feature which lets you call your near and dear ones directly using the phone book or message center without pressing the call button. If you want to mute an ongoing call, all you have to do is flip the phone. So, yes, there are a few things Karbonn has got in store for us.


Review

The fact is that ever since Hugh Jackman joined Micromax as their brand ambassador and ever since they came up with their Micromax Turbo, it seems phones like the Karbonn Titanium X are going to have a tough rivalry out there. Frankly speaking, the Turbo is almost superior to the Titanium X in all major aspects (except the battery, by 300 mAh). And with a price of 18K at which the Turbo is available, the inaugural price of Karbonn Titanium X at 18.5K seems to be not going well. While the Titanium has 1 GB of RAM, Micromax has 2 GB of that. Both of them have 13 MP rear and 5 MP front camera. Both use micro SIM and both of them run on the same version of Android. And both of them have the same processor as well. Comparing the Titanium with the Turbo, its close rivals it seems that the Turbo still has an edge over Titanium. Besides the goodwill which Micromax has to offer to its users, it does offer a brilliant headset in the bundle of Turbo as well. Yeah, it's a purely different stuff that we were not that fortunate enough to have had our hands on Titanium's headset.

Whatever be the case, it seems the Android market, especially the local one is full of competition, yet the Titanium X doesn't seem that bad an offer. After all, you can flip the Titanium to mute the call!! "The night is dark and full of terrors", as they say in the 'Game of Thrones'.

Read Top 3 features of the Machone smartphone by Karbonn