Best Tamil keyboard for Android with auto correction – Sellinam

Searching for best Tamil Android keyboard? In this article I have given functionality and details about Android Tamil keyboard Sellinam. Read this article to know what is new in this Tamil Android keyboard.


Tamil Android keyboard - Sellinam is the Tamil keyboard available for Android system in Google Play store. This application is available free for Android as well as Apple iOS. This application was developed by Muthu Nedumaran from Malaysia comprehensively for Tamil input. To download this app in your Android mobile visit the below link.

Link to download Sellinam - https://play.google.com/store/apps/details?id=com.murasu.sellinam


Features in Sellinam: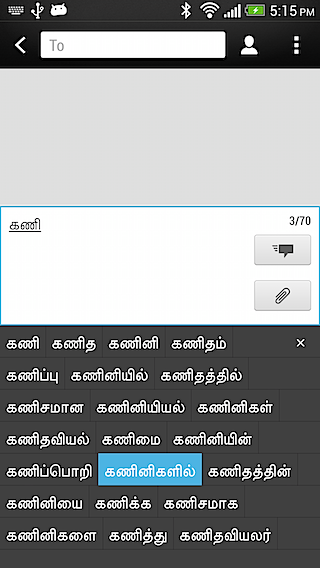 Auto-correction:

Sellinam has got inbuilt auto-correction feature. For example if you type "இலமை" it will be automatically corrected as "இளமை". This options works instantly when you press space after misspelled word and is not available in other Tamil keyboard application.


Word suggestion:

Word suggestion is very similar to Google instant search. Just after feeding the input you will get huge list of suggestions. You can choose your word by tapping on it. The interface is clean and there is enough space between each suggestion and consequently it is easy to select the word you need.


Switch between languages:

The keyboard enables user to feed input in Tamil, English and numerical. You can switch between languages by long pressing the space key. Numerical can also be entered by long pressing the first row of QWERTY keys as we do in default Android keyboard, this feature was absent in previous version of Sellinam keyboard. You can also add other foreign languages like Deutsch, Espanol, Polski etc.But there are tons of keyboard for those languages. It is full featured keyboard for Tamil.


Tamil Transliteration:

The keys layout are the same as default Android keyboard. This keyboard also has Tamil transliteration in it, it means that if you type Tamil it will automatically change the input as தமிழ். This option makes things simpler for those who find difficulties in Tamil keyboard. As I said before this keyboard also includes other languages, which can be downloaded optionally.

To keep this keyboard as default in Android system - Open settings and then click on Input. There you can make Sellinam as default keyboard. It is the best keyboard to feed Tamil input in SMS, Whatsapp, Facebook, Google Plus etc.

Read SwiftKey Keyboard 4, a gesture powered app for Android devices