Review of Bully Game

Are you looking for Bully Game Review? Then you are at the right place. In this article, I have provided you the gameplay, requirements, features and chapters of Bully Game.


Gameplay of Bully Game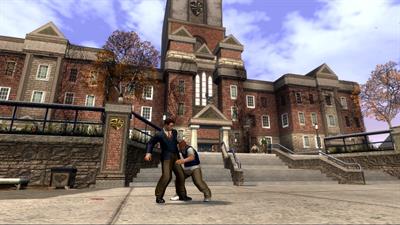 Bully game is a free-roaming and adventurous game. This game is all about Jimmy Hopkins who is also a trouble causing and difficult type of boy. In this game, you can explore, roam in your hostel and city. There are plenty of main missions and extra missions. When you will complete these missions, some of them will give you money and some will give you new items and will also improve Jimmy abilities. In hostel there will be two classes everyday and you can bunk the classes if you do not want to attend them but while doing so, prefects will be on high alert to catch you. And if they will catch you then they will take you to Principal's office and Principal will give you punishment like cutting the grasses of garden.

There are different types of classes such as Chemistry, Biology, English, Maths, Music, Geography and Gym classes. Jimmy will get different benefits for completing different classes such as if you will complete chemistry classes then you can create your own firecrackers, stink bombs etc. Jimmy can have different types of weapons for fighting with others such as itching powder, bat, slingshot, spud cannon, bottle rocket launcher etc. If you are having enough money, you can buy bicycle from shop which is outside the hostel. And if you are caught breaking the traffic rules then police will chase you. If you are caught by police they will drop you to your hostel.


Chapters of Bully Game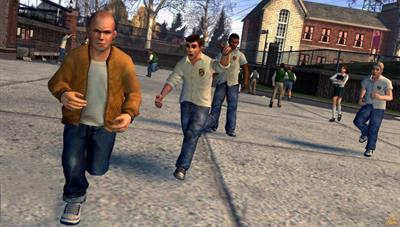 Bully game has the five chapters which are as follow :-
Chapter 1
In this chapter Jimmy works with Gary (his friend) and keeps on fighting with Russel and his friends. But when Gary took Jimmy to an isolated area called "The Pit" to fight with Russel, Jimmy came to know that Gary has cheated Jimmy.

Chapter 2
In this chapter Jimmy is the main target of Preppies Gang and Biff Taylor (preppie) challenges Jimmy to a wrestling match. As usual Jimmy wins the fight once again. In Chapter 2 Jimmy also saves Mr. Galloway from Mr. Hattrick who was about to dismiss Galloway from Bullworth Academy.

Chapter 3
This chapter is all about Lola who is girlfriend of Greasers leader - Johnny Vincent. At the end of this chapter Jimmy became the rival of Greasers and Preps too. But somehow Jimmy manages to beat up Johnny with Petey's help.

Chapter 4
In this Chapter Jimmy fights with two most dangerous leaders - Earnest Jones (leader of Nerds gang) and Ted Thompson (leader of Jocks gang). At last of this chapter, Jimmy runs the whole school now.

Chapter 5
In this chapter Jimmy finally beats Gary on the top of the school building.


Characters of Bully Game

Jimmy Hopkins:- Jimmy is the main character of this game who studies in Bullworth Academy.

Petey Kowalski:- Pete is one of the loyal friends of Jimmy. He gives different ideas to Jimmy to make his way out of any trouble.

Russell Northrop:- First Russell was the rival of Jimmy but later on they became good friends.

Gary Smith:- At first Gary was friend of Jimmy but later on Jimmy found that Gary has cheated him. Gary is the main rival of Jimmy in the game.

Dr. Crabblesnitch:- Dr. Crabblesnitch is the Principal of Bullworth School.

Zoe Taylor:- Zoe was restigated from the school but after sometime she re-enrolled in the school. In addition, Jimmy loves Zoe Taylor.


System Requirements for playing Bully Game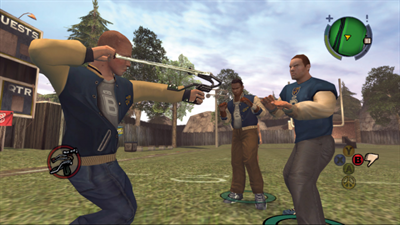 Minimum System Requirements
OS: XP / Vista
Memory: 1 GB
Processor: AMD Athlon 3000+ / Intel Pentium 4 (3+ GHZ)
Hard Drive: 5 GB free
Sound Card: DirectX Compatible
Video Card: ATI Radeon X1300 or better / Nvidia 6800 or 7300 or better
DirectX: 9.0c

Recommended System Requirements
OS: XP / Vista
Memory: 1 GB
Processor: Athlon XP 3000+ / Pentium 4 3.0GHz
Video Memory: 256 Mb
Hard Drive: 5 GB free
Video Card: Radeon X1300 / GeForce 7300 GS
Sound Card: DirectX Compatible
DirectX: 9.0c


About the developers

Bully Game is developed and published by Rockstar Games. Rockstar game has also developed Grand Theft Auto (GTA) series and Max Payne series. Bully Game has got nice rating of 8.7/10 on "GameSpot" and 8.9/10 on "IGN".

Read 5 Best paid Android adventurous games in 2015