Google's new Android 4.4 Kitkat OS for handheld devices

All of us know that Android is the most popular operating system among the handhelds and it eats up major portion of the market. Now, to add more, Google is about to release its newer version of android, Android 4.4 KitKat. Read more to know more about KitKat and what heat it will have.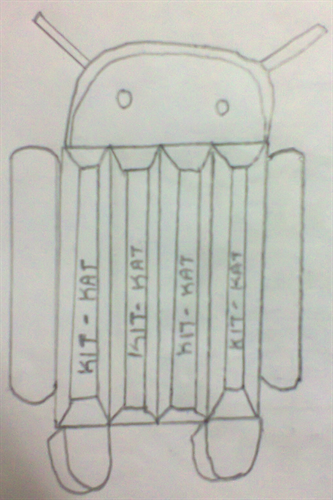 Android 4.4 KitKat:
All of us love to have a bite of KitKat, don't we? Now, we can get ready to have a bite of a new kitkat via our handhelds, I mean operating system and not a literal kitkat choco. Google is getting ready to release its new version of Android, therefore empowering the handheld devices, the Android 4.4 KitKat. Haha, seems humorous, right? Google has named its previous versions of Android after sweets and the newer version is named after the famous chocolate, Nestle KitKat.

It was supposed to be called as Key Lime Pie, which is now decided by Google to be called as KitKat, says Google's Android chief, Sundar Pichai. It is supposed to come fully packed with better upgrades and bug fixes which the previous versions lacked to have. Some upgrades which we can expect are that it might have multi-user customization, stylish notifications pane, better Bluetooth features, improved keyboard interface, less memory requirement and more.
So, what now what can we expect from the upcoming Android 4.4? Guys, let us see more...


Advantages of Android 4.4 KitKat

Upgraded Bluetooth connectivity features: The older versions of Android had some issues related to Bluetooth file sharing. It seems that the Android 4.3 JellyBean posed compatibility issues with the famous Google's mobile, Nexus series and also had constraints in connecting with other Bluetooth devices. So, Google released Bluetooth 4.0 & Bluetooth Smart Technology to overcome this. However, that too had some very minor problems. But in this version, the Android 4.4, we can expect to have better and greater improvement on Bluetooth connectivity features.

Multiuser customization: Multiuser customization enables many users to use their own space to work in the same device, thus one device many users. That too, users can use them without logging in.

Improved keyboard interface: We know that Google has released keyboard upgrade with new texture at its play store. In this version, we can expect even better keyboard have better response and a cool appearance.

Less memory requirement: All of us want more apps, games, themes and other cool stuffs on our handsets but memory stands as a barrier for our wishes. Google appears to have taken an initiative for this. The new baby is designed to run on handsets with less memory requirement as low as 512MB. Sounds great, right? So, we can have much stuff on our mobile as KitKat does not eat up much space.

New Notifications bar design: It is expected to come with a better, compact and eye catchy notifications column.

Release date:
Release Date: It is supposed to be brought to the eyes of world in the month of October.

Conclusion:
From the above, we can conclude that users will have a better experience using their Android handhelds and is to be sure that the power of handheld devices will grow more.

Read How to change navigation and status bar like Android Lollipop in Moto E?