Review of Bitmado - solution to the everyday appetite for your eyeballs

Introducing to you is bitmado, an Android app designed to keep shuffling wallpapers with its brobdingnagian swoop of wallpapers. This application makes sure always in a while when you turn to look at your baby, you get to see a wallpaper that's of your choice, from the 'mado' of your choice. Sounds weird, eh? Catch up with the review.


Back in 2003 when Nokia launched its 2003, it was a boom. Its sale went up to 250 million units and no matter what, everyone wanted to have one of this. Ten years down the line and everything seems so changed. Now, a major portion of the industry of the phone is dominated by touchscreen smartphones and yes, what good they are without brilliant wallpapers on the face?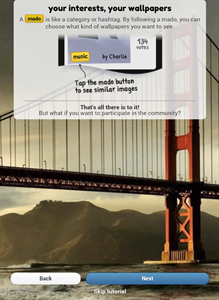 Wallpapers: They keep your device fresh, lively and maintain your identity. Every now and then when you feel bored and want a change, the first thing you want to change is your wallpaper. The one thing you expect your boyfriend to notice and appreciate when you let him hold your thin skinned Xperia is the retro 'I Love You' wallpaper you'd put especially for him yesterday. But what if you run out of them one day? What if you don't feel the energy or don't have the time to keep changing them every now and then? Well, it happens with all of us, right?

Bitmado, by 1spire, Inc. is one such solution for your Android smartphone, an application which is going to take care well of the face of your phone. It says Bitmado is a wallpaper shuffling engine. Yes, you got it right. Just like the themes on Windows 7, Bitmado makes sure your wallpaper keeps on changing as per you like them to. The only differences:


the number of wallpapers are much more in Bitmado, as compared to Windows 7's themes
the overall colour scheme of the phone does not change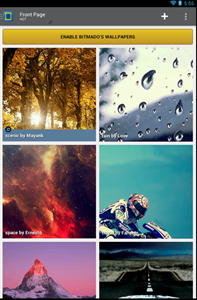 How does Bitmado work?

One of the best things about Bitmado is the ease of use of the app. There are so many applications like this on the play store, but what really makes Bitmado different is that it is transparent. The first question that comes up your mind is where do the pictures come from? Well, the quick answer is that the pictures come from a community. Well, it's as simple as this. You use Bitmado. You're a part of the community. You can add pictures. Now, if your wallpapers get a lot of what they call 'upvotes' (just hope you don't get 'downvotes') your wallpaper is promoted. They can even be promoted by bumps. In fact, as per the game, bumps promote an image even more as one can bump an image multiple times.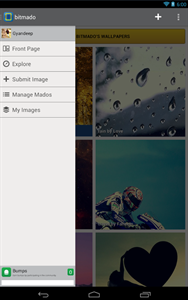 The one thing that makes this application real different is 'mado'. Now what are mados? Mados are categories of wallpapers. Select the Mado of which wallpapers you want to keep shuffling on your phone's display and Bitmado will take care well of the rest. When I talk of Mados, Sony's SensMe technology come up to my mind where you could select the mood of the songs and it'd keep playing songs of the similar mood and you'll feel amazingly awesome. Good to know, I still have the thing with me.

Tap on the top left to swipe from the left to show the menu. The images on the front page, as they say, are what actually going to be your wallpaper. Through the same tab, you can manage the mados you've chosen through the 'Manage Mados' option and can see what you've done with your images with the 'My Images' option. Again, there's the Explore , using which you can explore Bitmado, the dynamic world of wallpapers.


How to participate in Bitmado community?

Participating in Bitmado community is simple. All you need to do is download Bimado from the Google play store and run it. You can continue as a guest but you'll able to make limited activity. Your voting rights and for that matter, your bumping rights will be reserved and you'll have access to limited wallpapers. However, you can make the sesame open just by logging in through google+ or Facebook for the complete access to Bitmado. They assure you to not spam your friends or post anything without your permission (in the tutorial).


How to submit image in Bitmado?

Adding an image to the Bitmado community is quite easy. Just click on the '+' button the top right of the app, select an image, and let it go. Ask your friends to promote it through bumps and upvotes so that more people start to like it and you go popular. Oh, did I mention that the artist (the one who adds the image) is credited for the image?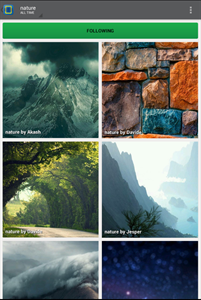 Review of Bitmado

Well, till now all I'd been doing was expanding on the subject, explaining to you in bits. To be frank, there was not much to be explained. It's a simple yet easy to use application that allows you to do exactly what it promises. There's a plethora of images and you're assured you're never gonna get bored.

My verdict on behalf of Techulator is that at this point of time when Bitmado does have a number of rival wallpaper apps in the playstore itself, I guess "Bitmado is the perfect solution to the everyday appetite of your eyeballs". There's nothing to stop you or prevent you from keeping this on your gizmo.

Read Mobogenie Android phone manager: A review