Wondershare Video Editor review: one of the most reliable video editors

Are you looking for a video editor, that does not require an engineer to use? Here is a review of Wondershare Video Editor, which is one of the most reliable and easy to use video editors currently available.


With the modern SLR cameras and other gadgets that let you preserve the special moments of your life forever, what you need is an editing software. You would always feel there is a requirement for blending the video clips, music, and text and also you can surely impress everyone with the special effects added to your video. The result is the home movie that has the qualities of professional movie. What is great about this editor is that you can do all these tasks easier and faster. It takes only a few minutes and can be used by everyone and you need not be a techie to get this done.


What's special about Wondershare?

You can interlace using the videos, audio and photos. Regardless of the format of the videos, images or the audios, you can get the task done easily. Picture in picture, filters, transitions and many other features make it possible to personalize your home video. You can crop, split and trim any of your videos, photos and audio. It is also easier to split the video into segments and the smart screen detection feature of this video editor makes it easy for the users. More interesting is the feature that lets you share the video, audio, photos or the movies with your friends in social networking sites like Facebook, Twitter and YouTube.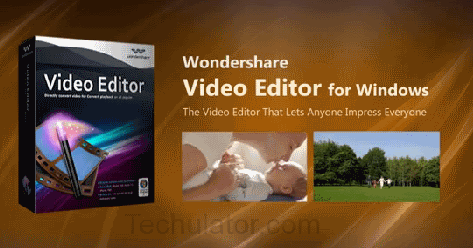 Editing Features:

You can avail the following special editing features when you use the Wondershare video editor:


Scene detection- this lets you create your own movie by splitting the scene changes


Close up – even if you had not taken the close up shot, get the effect by zooming on the required place, and get the same effect.


Jump Cut- You can create jerky actions with this feature


Mosaic – by placing a pixilation on the screen, and adjusting the size, you can hide information that you need to protect or inappropriate for the viewers.


Picture in picture – this feature lets you create multiple videos in a single frame.


Face off- this is a fun tool that lets you replace the face with hilarious masks. There is a huge collection available for the users


Audio Separation – you can separate the audio and make changes to the speed, pitch and volume and much more


Play back speed – this feature lets you control the speed of the video
Effects


You have more than 300 effects to be applied on your video. You can apply colors using the filter effects, add graphics to your movie, switch scenes using dynamic transitions, include versatile texts, bring in more drama and laughs to your video, and add intro and end to your video that impressive and these let you begin and end with a bang.


Review of Wondershare Video Editor

Let us take a look at the advantages of this software. Even though we like to mention the negative side, we did not really found any noticeable defects or problems in the software.


Pros

You need a perfect workspace when you are looking forward to create your own movie. It is easy to do these with a click and editing is made more easier with the intuitive workspace, and a simple one too from the Wondershare video editor. You can give the professional touch to the home video by stacking your tracks. You can also include more content to the home video by simply the dragging and dropping the files from the folders. Stretching and shrinking the files are also simple because of the select screen detection feature.

Sharing the videos:
You can copy the videos you have edited to a CD, or you can convert the same into a HD video. You can also share in the social media and can fit the same into iOS and Android devices.

Requirements:
You need to have the OS of Windows XP, Vista, Windows 7 and Windows 8. You can also use the wondershare editor on Mac OS * 10.6, 10.7, 10.8.
There is a free trial option available and you can get the software for $39.99. If you are not satisfied with this software, claim for the 30 days money back guarantee.

Also Read Review of VSDC Free Video Editor from VisualSoftDev


Wondershare Video Editor Giveaway - get it free

Do you want to get a free licensed copy of the video editor? Wondershare contacted us and offered a giveaway to the readers of this review. Free licenses will be given to 10 winners.

Here is what you have to do to be eligible for the free giveaway:

1. Share this review link in your Facebook page, with your comments

2. Let us know the url of your Facebook page by posting the url of your FB page below as a comment.

This program ends on 15 September 2013. We will contact the 10 lucky winners through email and send the license codes.

Learn more about Wondershare Video Editor

If you are looking for free video editing software, you can find a list here: http://www.wondershare.com/video-editor/free-video-editing-software-windows.html