Sony VAIO Fit 15 touch laptop - a Windows 8 gaming laptop

In this article I'm going to do a detailed review of Sony VAIO Fit 15, an amazing Windows 8 Professional touch laptop designed for high performance. This laptop with an i7 processor from Intel has the ability to boost its clock speed up to 3.10 GHz which is amazing for gaming or heavy graphics editing on your laptop. Read on to know more about this touch laptop.


Introduction:

Sony has already taken control of the smartphone market by launching some of the smartphones with amazing features. One of the best things about Sony is its ability to display graphics in a crystal clear quality. This touch laptop is no exception when it comes to display resolution and quality. This 15.5 inch laptop has a screen resolution of 1920 X 1080 which is also called full HD. This Windows 8 laptop also has the facility of touch screen display. This is great for watching your favorite movies and playing the best games out there in the market with crisp quality. The laptop looks great with its polished aluminum lid and it is thin and light weighted to let you carry it anywhere easily.

As far as performance is concerned, the Sony VAIO Fit 15 doesn't lag behind at all. It has got an Intel i7 processor which provides a clock speed of 2.0 GHz which can be boosted up to 3.10 GHz with its Turbo Boost Technology. There is a 12 GB DDR3 RAM installed with the device. You don't need to worry about your computer freezing from time to time. There is also a 256 GB SATA hard disk storage space. One of the coolest features of this touch PC is the availability of Blu-Ray Disc reader and burner which is great for watching video in the highest definition.
Let's look at some cool features of this touch laptop.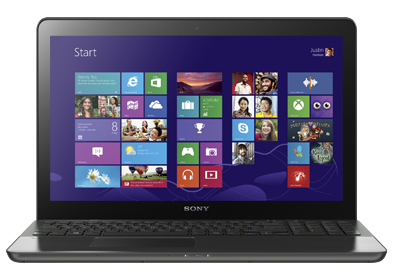 Cool Features:

Touch Screen:
As this is the age of touch gadgets, people have become so used to touch screen that they can do the task easily if they are provided with touch screen gadgets. So, this laptop is designed as a complete laptop like the other ones but additionally it has a touch screen display. So, you can continue your life of touch screen with this laptop also.

This laptop has Windows 8 Professional operating system preinstalled in it. Since Windows 8 is easy to operate with a touch device, you will not encounter any problems with your touch laptop. Along with this touch screen feature, this laptop also offers full HD display resolution. So, you can have the full advantage of your movies right on your screen.

Rapid Wake:
One of the other features that this laptop possesses is one that is called Rapid Wake. This feature can be a very useful tool at times. It works like this. If you want to take a break from your work on laptop or just wanted to attend some important task for a short amount of time, you don't need to shut down the Windows from now on. You can just close the lid to put your PC on the sleep mode. And when you are back you can open the lid and in 2 seconds all your data that you were working with will be resumed and up in front of you. This feature will save you a lot of time and battery life as well.

XMOR R CMOS Sensor:
The web camera of this laptop has the XMOR R CMOS Sensor with 1 mega pixel. This will help you make video conferencing or video chat with your friends clearly. This technology captures image with less noise making it more clear to view.

Multi Gesture Touchpad:
The multi-gesture touchpad of the Sony VAIO Fit 15 touch laptop is one of its kinds. You can do some amazing things with this touchpad. Some of the actions like flipping to other images by swiping on the touchpad, pinch-to-zoom, scroll with two fingers and even rotate with a touch pad gesture. There are many other things that you can do with this multi-gesture touchpad.

ClearAudio+ Sound:
ClearAudio+ technology is responsible for producing excellent audio quality in this laptop. It combines Sony's sound processing technologies like X-Loud, Clear Phase and S-Force.
This technology will eliminate the distortion that some of the speakers produce while playing sounds. It also delivers the bass sounds with clear quality. So, you can manage with your laptop speakers unless you are really into some serious sound mixing project.

Creativity Software:
There are many software applications from Sony that come installed in this laptop. Software like Sound Forge Audio Studio, DVD Architect, Movie Studio Platinum, ACID Music Studio and many more come preinstalled in this laptop.
There is also a software application called VAIO Movie Creator which is a handy tool for creating a quick movie. You can choose from 45 design themes and music and create a slideshow of your photos and share it to social networking sites with great ease.

Night Shift:
This is an amazing innovative technology which helps in having more comfort in computing. With this technology Sony automatically illuminates its keyboard and lightens up the keys when you type in dim light. This makes recognizing the keys with ease.


Technical Specifications:

Now, let's have a look at the technical specifications of the Sony VAIO Fit 15 touch laptop.

Processor:
The laptop has the Intel Core i7-3537U processor with a clock speed of 2.0 GHz. With Turbo Boost technology you can boost it to 3.10 GHz. There is also 4 MB of cache to make processor faster.

Memory:
12 GB of DDR3 RAM is installed already in the laptop. It has a speed of 1600 MHz.

Graphics and display:
This laptop has a 15.5 inch screen size which makes it comfortable to use the laptop for most of the tasks. Its LED screen has a screen display resolution of 1920 X 1080 pixels. Moreover it is a touch screen laptop.
Sony has put an NVIDIA GeForce GT 735M graphics card processor inside this laptop. It has a graphics memory of 2 GB. It also has NVIDIA optimus technology for better performance of the laptop when it comes to graphics.

Operating System:
The laptop comes preinstalled with Windows 8 Professional operating system, which is the latest OS of now from Microsoft. It is a great OS for a touch device and so you will completely enjoy the experience of Windows 8 with this touch laptop. This laptop has a 64-bit architecture which makes it a machine which can process more data at the same time.

Ports and connectivity:
There are 3 USB ports: two of them are version 3.0 while one is version 2.0. There is also an HDMI output port and an SD slot. There is also headphone out and microphone in jacks.
As for connectivity, the laptop has got a Bluetooth of version 4.0 which will give a great speed while transferring data from your other digital device to your laptop and vice versa. There is also an Ethernet Protocol and Wi-Fi support of 802.11 b/g/n.

Storage and optical drive:
The laptop has a SATA hard disk with a data storage capacity of 256 GB. Since it is a hybrid hard drive, the speed that it offers is great.

Price:
The laptop costs $1699.99 on its official website. This price is a fair price for such an awesome laptop.


Pros and Cons:

Now, let's take a quick look at the pros and cons of this laptop.

Pros:

The laptop has got a touch screen which is great as far as accessibility is concerned.


The laptop has got a high technical specification which delivers great computing experience.


Cons:

The only con that I find about this laptop is that considering the high technical specification, the hard disk storage capacity is less i.e. just 256 GB, which will seem to be less if you are a serious gamer.



Conclusion and review:

To conclude, the Sony VAIO Fit 15 is an amazing touch laptop which you should get your hands on if you wish to have an awesome laptop for gaming. This laptop has got some amazing and unique features that most of the laptops don't have. The touch screen of the laptop will increase your interest of using the laptop. The laptop is also a lightweight machine which you can take with you anywhere easily.
So, if you are looking for a high performance laptop with a touch screen, this laptop is designed for you.

Read Best 5 Laptops in India under Rs 50,000 in 2014