Sony Xperia C: Full details and description

We are telling about the one of the latest version of the Xperia series which is Sony Xperia C. this phablet has 5 inch screen and it is the slimmest phablet of the Xperia series with a width of 8.88 mm. it operates on the Android 4.1 JB operating system.


The status of this resource is Pending and require some modification by the author.


Full details of the Sony Xperia C
Sony has launched another Xperia products in the market which is Sony Xperia C handset. Recent past they lunched its Xperia Z. like Xperia Z, this products is also rich in the specification. This phablet has 5 inch screen and operates on the Android 4.1 Jelly Bean operating system. This set has the minimum thickness of about 8.88mm and weigh of about 155 grams. So it is going to be the slimmest Xperia phone.
The details description of it is given below for that you have to read the article which is given below.
Features of the Xperia C
It has long 5 inch screen with a resolution of 960x540 pixels in screen. Its resolution is not that much good as compared to the previous version of the Xperia Z, but also it is not so much dull. It operates on the 4.1 Jelly Bean which is not run on the latest version of the Android 4.2 Jelly Bean. So I think price may be the matters for these, because price has not been set for it. It has quad core CPU with MediaTek MT6589 processor and has 1.2 GHz clocking frequency. It has the 1 GB RAM again which is not so much enough but with Android 4.1 Jelly Bean it is enough.
Another features of the phablets are that its internal and external memory, camera, connectivity and the battery backup. It has 4 GB of the internal memory which is good but compare to other handset this memory is too much less. And its external memory can be expendables up to the 32 GB by using SD cards. It has 8 MP rear camera with Led flash and VGA front facing camera in which you can capture both image as well as video which is the unique.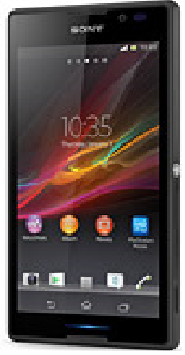 Other feature like it is Dual SIM phablet. Its battery backup is yet not known but hope it will be come with strong battery backup. It is 3G enabled phablet which supports all types of the connectivity. Its price yet not announced but it may be fall in the range of $550 to $650.
So overall we can say it is good phablet and all depend upon its price if it is low than according to its price it has good features.
Short Description
Processor : MediaTek MT6589
CPU Quad core with 1.2 GHz clocking
Operating System : Android 4.1 Jelly Bean
RAM 4 GB
Internal Memory 4 GB (expendables up to 32 GB using SD card)
Connectivity 3G
Screen size 5 inch (Resolution of 960x540 pixels)
Camera 8 MP rear with Led flash and VGA front facing
SIM Dual SIM
In short we can say that it is a good phablet with slim screen and light weight. All is now depends upon its price and the battery backup which is still not known.