Toshiba KIRAbook 13 i5 Ultrabook - a lightweight laptop with amazing features

In this article I'm going to provide a review of Toshiba's KIRAbook 13 i5 Ultrabook. This is a great laptop with an Intel i5 processor and an 8 GB RAM which will make your digital life faster. This laptop has some amazing features which will be explored in this article. Read on to know more about this ultrabook and also the pros and cons of the same.


Introduction:

The Toshiba's KIRAbook 13 i5 Ultrabook Laptop is an amazing 13.3 inch laptop to do most of your digital tasks. It is pre-installed with Windows 8. One of the coolest things about this laptop is that it uses less power because of its Power-Saving Eco Utility Button. It has a 256GB mSATA Solid State Drive which has comparatively less storage space than other laptops. But with the purchase of the KIRAbook you will get a 1 TB Portable Hard Drive free of cost. So let's jump into some of the cool features of this ultrabook.


Cool Features:

Power Saving:
There is a Power-Saving Utility Button which you can press to reduce the power consumption of your laptop. This can make your life much smarter. So, this laptop can also be called an eco-conscious laptop. For this same reason this laptop has been awarded the elite EPEAT Gold Status for achieving the highest rating in the environmental standards for laptop by EPEAT.

Additional Software:
There are many additional software applications that are preinstalled in this laptop. It comes with a 30-day trial for Microsoft Office 360. It also has many other programs installed like Adobe Premiere Elements 11 full version, Adobe Photoshop Elements 11 full version, hard disk recovery software, Intel Rapid Start Technology and much more. As far as security software programs are concerned, this laptop doesn't fall behind there too. It has Norton Internet Security for with 24 months subscription and also Norton Online Backup and Anti-Theft programs with 24 months subscription as well.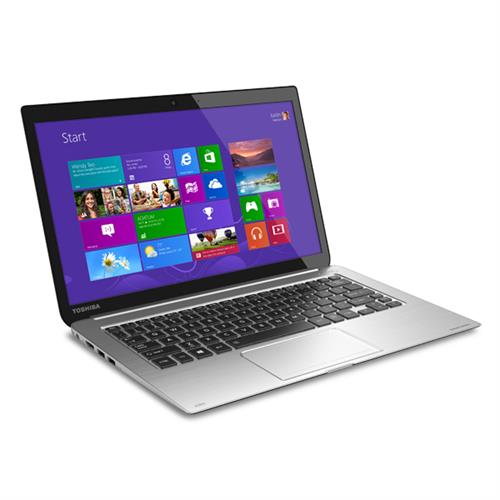 Technical Specifications:

Now, let's dive into the technical specifications of the laptop.

Processor:
This laptop is equipped with an Intel i5-3337U processor. It's a dual core processor. This will make your laptop perform faster.

Memory:
This laptop has a DDR3 1600MHz RAM of 8 GB. This will definitely boost the speed of multitasking with this machine as the combination of the high speed processor and this much amount of RAM will make your laptop perform with great speed.

Storage:
There is a storage space of just 256 GB as it comes with a mSATA Solid State Drive of just 256 GB. This may become a hassle as with such a high performance laptop you cannot store much data as like in the other laptops. But there is a good news for this also that you get a Toshiba 1 TB Canvio Connect Portable Hard Drive – Silver which has a price of $129.9, absolutely free of cost.
So, even if you don't have enough space on your laptop to store data you can do them in this portable hard drive. You can also use this portable hard drive to transfer data from other laptops to yours easily. But you don't get an Optical Drive for this laptop. You have to separately purchase a Portable Optical Drive from Toshiba for $59.9.

Operating System:
This laptop comes with Windows 8 pre-installed. Windows 8 is the latest operating systems of Microsoft till date. So, you won't miss any new technologies that Microsoft brings out in the market.

Graphics:
The laptop has a Mobile Intel HD Graphics Engine. As for graphics memory it has 64 MB to 1664 MB of dynamically allocated shared memory for graphics. This will make your movies and games look more realistic. You can also work on your graphics work easily with this graphics memory.

Display:
This is a laptop with 13.3 inch screen. It has a WQHD PixelPure LED Backlit Display. It has a display aspect ratio of 16:9. It can handle 1080p videos.

Communication:
It has an HD webcam and microphone for video conferencing. It has a Wireless LAN : Intel Centrino Wireless-N 2230, 2x2 BGN + Wi-Di Capable.
It also has a Bluetooth version 4 for transfer data from your Bluetooth devices instantly to your laptop and vice versa.

Battery:
This laptop has a battery of Lithium Polymer (52Wh, 4-Cell). It provides a battery backup of 16.17 hours which is a great pro for a laptop. So, you can use it almost anytime and anywhere.

Connectivity:
The KIRAbook has a memory card reader to transfer data from your digital cameras or any other digital device. There are also 3 USB ports of version 3. Two of them have USB sleep and charge facility. It also has an HDMI output port to watch your videos in a big screen.

Price:
This laptop costs $1599.99. Considering all the amazing features that this laptop has the price is an fair.


Pros and Cons:
Pros:
This laptop has a high performance processor and a comfortable amount of RAM.
It is quite lightweight. It just weighs 2.66 lbs.
It has a long battery life of 6.17 hours.
Cons:
Lack of a large amount of internal storage space.
Only 13.3 inch of screen size which is not so good for graphics works.
Conclusion:

The Toshiba's KIRAbook 13 i5 Ultrabook is a great laptop for you if you are looking for a laptop with high performance and at the same time deliver properties like light weight and long battery life. So, if you are a person travelling more and staying out of home for long period of time, I think this is a great choice for you.

Read Reviews on Toshiba's upcoming Portege Z30 Windows 8.1 ultrabook