Whirlpool Smart Front Load Washer with 6th Sense technology - WFL98HEBU

Here, the features, overview and technical speculations of Whirlpool Smart Front Load Washer with 6th Sense technology- WFL98HEBU have been given. Please read the following article to know about its details.


Introduction

The Whirlpool Smart Front Load Washer with 6th Sense technology- WFL98HEBU has been designed and manufactured by whirlpool. Its products are air conditioners, refrigerators, Ranges, Wall Oven, Cook tops, Microwaves, Washing Machines, Water filters, etc. The whirlpool has recently manufactured the 6th Sense Live Technology by integrating it into the Whirlpool Duet Diamond Steel Smart Electric Steam washing machine with Dryer (Model No- WEL98HEBU). It is considered to be an intelligent machine promising to save the time of its users, stress taken while washing clothes and cost.

The washer of this machine helps in making the laundry a stress-free and user friendly experience. Because of its self monitoring functionality, it can notify the user with updates, status, etc while washing. A good machine for working couples. User can just fill it with laundry, start and concentrate on doing other jobs at home or go out for getting groceries, shopping, etc as it monitors itself and stops functioning once its set activities are completed. This device has a specific function called "Clothes Clean Nudge" which will send you alert on your mobile when the cycle completes and you can also switch it off or enable Fan Fresh cycle of the washer which helps in tumbling the laundry to save it from getting wrinkles, remotely if you are not near the machine. Its 6th sense app will help you operate the device with your ease and comfort.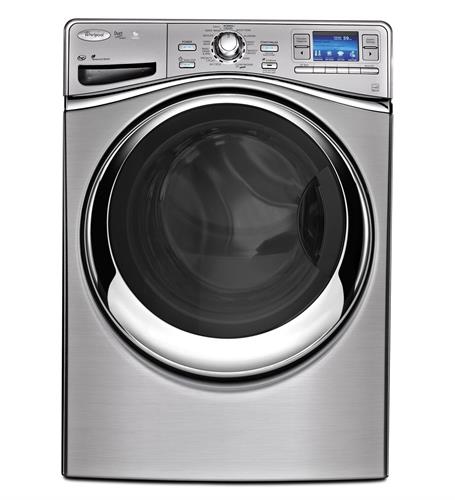 This machine also provides a few general benefits with the help of smart technology embedded in it, like this washer has an ability to send an issue alert via text or an email or by using 6th sense app technology so that you can have an arrangement of a quick and prompt service. It has a detergent assistant which keeps a track of required detergent level in the Precision Dispense drawer of the washer to make sure about appropriate amount of detergent is used for the amount of laundry being washed. It also has a Smart delay and energy adviser features which help to track and to ensure that lowest rate of energy is used by delaying a pending wash cycle until enough amount of energy is in spare. This is the most cost effective quality of this machine.

Its 6th Sense Live Smart appliance technology is what is found in premium-level washing machines of Whirlpool with quality features found in the machines of the world's leaders in home appliances. This machine offers 26 wash cycles for laundering your maximum clothing items like large comforters, staied jeans, delicate clothes, etc. It has a sanitizing cycle which helps in killing germs on the clothes by using the power of steam and keeps your family free from diseases and maintains a healthier environment during flu season and protects your family from any contagious disease spreads through clothes. There's a stainless steel drum that resists bad smell and performs gently on delicate fabrics. The spinning speed of the washer is 1400 RPM and by running Fan Fresh air tumble cycle, a few items can be dried in the washer.

Whirlpool WFL98HEBU Smart Washer with 6th Sense Live technology transforms your style of doing laundry.

Below are the features of this wonderful, convenient, user friendly and affordable washer:


6th Sense Live technology


This technology in the washer would help you to stay connected with your machine to monitor its set up activities. This app would send alerts to you about the washer cycle ending tasks, restarting the cycle, etc.


Smart Assistant

You can manage all your appliances with the help of Whirlpool 6th Sense Live technology used in the washer. It has become easy for you to activate desired options in your absence at home remotely by using Smart Assistant features such as FanFresh Option Assistant and Remote Start/ Pause.


Smart Stats

Whirlpool® 6th Sense Live™ technology provides Smart Stats to ensure that users have the product information whenever needed. Smart Stat features helps in knowing the information like Days Online and Cycle Progress from your smart phone, tablet or computer, Start Date of your appliance.


Smart Energy

It can reduce the energy use with Whirlpool 6th Sense Live technology. You can connect to the Smart Grid used by utility companies, you can track the rate of energy being used by your device and it also helps in optimizing the energy usage. Smart Energy features are Energy Adviser, Rate Reveler and Smart Delay.


Smart Nudges

Smart Nudges will help in reminding clothes cleaning information, and the status of the device and monitors it always.


Smart Alerts

Smart Alerts would notify the smooth functioning of your appliance by sending important messages like issue alerts, etc, which would help you maintain prompt service arrangement if required.


Smart Store

The afresh Cycle Assistant and Detergent Assistant would help you to know the time to replace or utilize them. The Smart Store also helps you to place an order for purchasing these accessories via web site.


Precision Dispense Ultra

Precision Dispense Ultra helps the users while adding the detergents to know the quantity of detergent required and helps in saving detergent costs up to 10% annually by guiding how much is required for the load of laundry being washed. It also releases fabric softener and bleach to take care of delicate fabrics. It has a removable reservoir to hold the detergent for up to 36 loads in a single filling.


Laundry Apps

Laundry Apps features like Stain Assistant and Hints & Tips offer you a practical suggestion on stains and other daily laundry questions. There's a "Before You Call" section to help you to have ready answers for all the technical questions you may have about the washer. There are 14 specialty fabric care cycles and 3 language options to complete the no. of helpers provided by washer.

There is a Fan Fresh Option longing for up to 16 Hours in the washer.


Quiet Spin 360 Technology

The machine has a Full Color Widescreen LCD Display and a Stain Assistant for the user for easy operating of the washer.

ENERGY STAR Qualified

This appliance is compliant with the government standards for conserving natural resources and for saving money on utility bills.

Direct Drive Motor
This feature helps the washer to spin faster, uses fewer moving parts, and ensures less wear and tear over time. It has also been provided with an Internal Water Heater.

Allergen Cycle
Allergen cycle has been tested to help in removing up to 95% of harmful allergens from the clothes. It has a Delay Wash option up to 20 hours.

Steam Clean Option
It helps in penetrating deep into fabric fibers of the clothes, breaks down and dissolves the stains of grease and grass without pretreating.
The machine has a height of 38 ½ inches, depth is 32 ¾ inches and width is 27 inches. It has been provided with a stainless steel wash basket, temperature control system, 1400 RPM of spinning speed, 3 chambers, detergent dispenser, CEE tier III tier level, 26 cycles, whitest white cycle, heavy duty wash, quick wash, normal wash, extra rinse, delay start of up to 20 hours, Prewash-LCD, control lock out and 6th sense Live appliance which requires internet access.

Below are the specs of this machine for users' easy reference.
Specifications:

Cycles

• Allergen: Yes
• Clean Washer: Clean Washer with Affresh
• Number of Cycles: 26
• Jeans: Yes
• Delicates: Yes
• Whitest Whites: Yes
• Normal: Yes
• Hand Wash: Yes
• Heavy Duty: Yes
• Quick Wash: Yes

Displays

• Control Locked: Yes
• Extra Status LED: Sanitized
• Door Locked: Yes
• Prewash / Wash: Prewash - LCD

Main Characteristics

• Capacity (Cu.Ft. DOE): 4.3
• Controls: Electronic Control
• Temperature Control: Care Control Temperature Management
• Controls Location: Front controls with cycle indicator lights
• Drum Tub: Stainless Steel
• Tier Level: CEE Tier III level
• Spin Speed: 1400
• Detergent Dispenser: Yes
• Drum Light: LED Drum Light
• Heater: Built-in waterheater
• Number of Chambers: 3
• Number of Temperatures: 6

Options
• Extra Rinse: Yes
• Delay Start: 20 Hour

Wash/Rinse Temperatures
• Cold: Yes
• Number of Temperatures: 6
• Warm/Cold: Yes

Options
• Auto Soak: PreSoak Spin Speeds
• High: Yes
• Low: Yes
• No Spin: Yes

Displays
• Cycle Complete: Done
• Spin: Yes
• Rinse: Yes
• Wash: Yes
• Soak: Yes

Door
• Reversible door: Reversible Side-Swing Door

Feedback Indicators
• EOC signal: Off / Soft / Loud End Of Cycle Signal

Main Characteristics
• Capacity (Cu. Ft.): 7.4
• Controls: Electronic Control
• Drum Material: SS "Quiet" Steel
• Drum Light: LED Auto/Selectable
• Lint Screen Location: Door
• Wrinkle Guard Time: 140 Minutes
• Top Finish: Painted

Options
• Eco Monitor: Yes
• Wrinkle Guard: Wrinkle Shield w/ Steam

Sensor Cycles
• 6th Sense Live™ technology: Yes
• Damp Dry: Yes
• Eco Normal: Yes
• Heavy Duty: Eco Heavy Duty
• Jeans: Eco Denim
• Wrinkle Control: Wrinkle Shield
• Cotton/Towels: Yes
• Casual/Permanent Press: Eco Casual
• Bulky: Eco Bulky Items

Steam Cycles
• Refresh: Quick Refresh - 1-12 garments
• Touch Up: Enhanced Touch Up

Feedback Indicators
• Wrinkle Guard: Wrinkle Shield
• Damp: Yes

Other
• Controls Location: Front-Above Window Door
• Heating Element Type: Dual
• Time Remaining Display: Yes
• Heating Element Wattage: 5400

Temperature Settings
• Air: Yes
• Medium / High: Yes
• Low: Yes
• Medium: Yes
• High: Yes

Read Samsung 5.5 Kg Smart Front Load Washer - WF550B0BKWQ - overview, features and technical specs