Twitter launched Vine app for Android 4.0 and above

Till now we have vine only for iOS devices, but twitter launched their Vine for Android after six months to the launch of Vine for iOS. You can upload, share a six seconds video to Facebook and Twitter using Vine. Read on to discover more about the features of Vine for Android and iOS.


Owned by Twitter Inc, 'Vine application' was launched a few weeks earlier for iOS and now it's a good time for Android users. You have got 'Vine' and it's available on Google Play. However, Twitter has currently concentrated on launching new features and updates for iOS Vine. So, you may not get better updates for a few weeks.


Features of Vine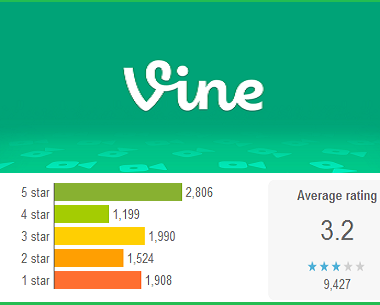 You can call Vine a mobile service or an application to create &upload videos to your Vine timeline and also you can share them to social sites, Twitter and Facebook. Vine allows you to record just a few (6 sec) video to post i.e. similar to a short and sweet tweet. Android users now cannot share their videos to Facebook, add hashtagsa and don't have a search box and can't mention their friends in posts except sharing them to Twitter. For sharing videos from Vine to Facebook and Twitter, you should add your Twitter and FB accounts under social networking category. Not only a six second video, you can also make animated videos using Vine. For example, Vine's unique feature starts or stops recording with a single tap on screen. Using this feature you can make amazing six second animated tales.

Vine for Android is completely different from Vine for iOS particularly in the presence of 'Home' button. There is no home button for Android, confused! The 'Feed' itself serves the purpose of Home and the menu choices in Android include 'Feed,' 'Activity,' 'Explore' and 'Profile.' Vine for Android lacks a 'Search' box, but has got a 'zoom' option that is not given to iOS app and 0this may hurt iPhone users a lot. Android users cannot use front facing camera for recording videos unlike iPhone users and they are eagerly waiting for this upgrade. Let's have a look at the features of Vine for iOS.


Features of Vine for iOS

1.Unlimited and free video uploads
2.You can instantly post videos on Vine & share to Facebook and Twitter
3.Find people, Follow and interact with them via address book, text
message or email.
4.You can explore trending posts, featured hashtags and editor's picks
just by tapping menu on top right corner.
5.Vine app is supported by iPhone 3GS and higher ones.


Features of Vine for Android

1.Supports Android 4.0 operating system and higher.
2.Unlimited uploads and free (same for iOS and Android)
3.You can instantly post videos on Vine, then share to Twitter, but the
Facebook share is yet to be upgraded.
4.Find, follow, and interact with people through email, address book or
text message.
5.Explore trending posts, featured hashtags and editor's picks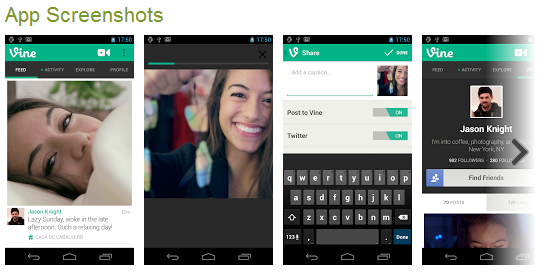 Vine app is currently available on Google Play with a file size of 18 MB and it can be downloaded for free. Twitter announced that 13 million users have signed up for vine after its immediate launch. But, we don't know the active users. Yes, many of the users might have got bored with the lacking features that are present in Vine app for iOS. So, let us wait for the upgrades to current version of Vine and also wait for the sync between iOS and Android apps.