Hands on review of Nikon D5200 digital camera

Nikon has recently launched Nikon D5200 which is an entry level digital camera. It is a leading product in market not just because of its brand value but also the amazing features it has. Read the article to know the features, specifications, price and some drawbacks of Nikon D5200 camera.


Introduction

Nikon is a popular manufacturer of cameras. The company has launched many advanced digital cameras in market. Nikon has recently launched an entry level camera called Nikon D5200. This camera offers high speed and clarity of pictures through its EXPEED 3-branded processor. The camera supports optional wireless connectivity that allows users to transfer their pictures easily. Let us see the other features and specifications of Nikon D5200 camera. Let us find out what makes this camera different from others.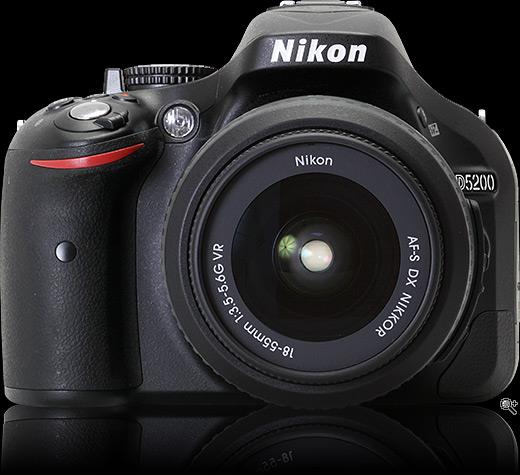 Features and specifications

Let us see the new features and specifications of the latest Nikon D5200 camera.

Looks and feel: The new Nikon D5200 camera is lightweight. It weighs about 550 grams. The dials and buttons in the camera are smooth, accessible with fingers and easy to use. The dimensions of the camera are 129 x 78 x 98 mm. It is very easy to operate this camera. The camera is available in black and grey colors.

Sensor and images: It uses an APS-C image sensor manufactured by Toshiba with a 24.1 MP image sensor from D3200. You can expect good quality images from this high resolution camera. It takes high quality ISO Auto and 100 - 6400 (25600 with boost) images. There are 12 white balances in the camera. The device does not support image stabilization feature. It boasts of Fine, Normal and Basic JPEG quality levels. It also supports RAW uncompressed format.

Optics and focus: Apart from auto-focus, the camera also features Contrast Detect (sensor), Phase Detect, Multi-area, Selective single-point, Tracking, Face Detection and Live View. The camera comes with an autofocus assist lamp. It does not support digital zoom. There are 39 focus points in the camera with manual-focus feature. The camera is mounted with Nikon F lens which supports 1.5x focal length multiplier.

Screen and view finder: It has a 3 inch LCD display with 921,000 screen dots. The camera does not support touch screen technology. The display screen of the camera is powered by TFT LCD monitor. The device supports Live View with Contrast-detect AF, Face detection and Subject tracking. This new camera boasts of an optical (pentamirror) viewfinder with 95% coverage. The viewfinder supports 0.78 x magnifications.

Photography features: The minimum shutter speed of the camera is 30 seconds and the maximum shutter speed is 1/4000 seconds. The exposure mode of the camera supports Programmed auto with flexible program (P), Shutter-priority (S), Aperture priority (A), and Manual (M). The different screen modes of the device include Auto, Portrait, Child, Close up, Night Portrait, Party/indoor, Pet Portrait and Color Sketch.

Videography features: The video of camera supports two formats- MPEG-4 and H.264. The new Nikon D5200 camera has stereo microphone and momo speaker. It can record pictures from many different resolutions- 1920 x 1080 (60, 50, 30, 25, 24 fps), 1280 x 720 (60, 50 fps) and 640 x 424 (30, 25 fps). The videography notes of camera come with 1920 x 1080, 60i (59.94 fields/s)/ 50i (50 fields/s), high/normal 1920 x 1080, 30 p (progressive)/25p/24p, high/normal.

Flash: Nikon D5200 camera has an in-built pop up flash feature which supports 12 m (at ISO 100) and an external flash with hot shoe. The device supports different flash modes like Auto, On, Off, Red-eye, Slow sync, Read and Curtain. The speed of Flash X sync is 1/200 seconds.

Memory: It does not have much in-built memory but the storage capacity can be upgraded up to 32 GB by using a SD, SDHC or SDXC card.

Connectivity: For connectivity, the camera supports USB 2.0 (480 Mbit/sec), HDMI (Mini type C) and remote control (Optional ML-L3 or WR-R10). The wireless connection is optional for users.

Battery: Nikon D5200 camera comes loaded with Lithium-Ion EN-EL14 rechargeable battery. The battery offers good standby time. This strong battery allows users to carry the camera for long drive, hiking, climbing and adventure exploring. Moreover, the battery is rechargeable through charger.

Packed contents: The packed contents include Nikon D5200 camera, battery pack and its charger. The package does not contain accessories like USB, head phone, data cable and memory card.

Additional features: The additional features of Nikon D5200 camera include White balance modes (Auto WB, Daylight, Cloudy, Tungsten, Custom, K, Fluorescent_H and Fluorescent_L), Face detection, Menu ISO settings (ISO, Auto 100, 200, 400, 800, 1600, 3200), +/- 2 stops in 1/3 stop increments exposure mode, Optical image stabilization mode, Effects (Retro, Sunshine, Old Photo, Comic, Pastel Sketch, Gothic Noir, Impressionist, Normal, Vintage, Black & White, Autumn Brown, Negative, Nostalgia and Color Fade), 1020p full HD video recording and expert control 5 mode shoot (Auto+, Aperture Priority, Speed Priority, Camera & Manual). The different screen modes include Auto, Portrait, Child, Close up, Night Portrait, Party/indoor, Pet Portrait and Color Sketch.

Price and availability of Nikon D5200: It is currently available on online shopping websites and stores for sale. It will cost you around Rs.46,000. Many online shopping websites like Saholic.com and ebay.com are offering good discounts on Nikon D5200.


Key features of Nikon D5200
24.1MP DX format CMOS sensor
EXPEED 3 processing
ISO 100-6400 standard, up to 25600 expanded
5 fps continuous shooting
39 point AF system, 9 cross type sensors
2016 pixels RGB metering sensor
1080p 30 video recording, built-in stereo mic
921k dot 3" vari-angle LCD monitor, 170° viewing angle
Review of Nikon D5200 camera

This camera has many amazing features but some drawbacks as well. Looking at the features & specifications of this camera, I have drawn its pros and cons which are presented below.

Pros


Excellent low ISO performance in both JPEG and Raw files


Class-leading noise performance at high ISO sensitivities


Very good default JPEG settings


Articulated rear screen


Effective auto white balance in a variety of lighting conditions


Auto ISO selection can be linked to lens focal length


Generous frame coverage of 39-point AF array


Customizable Fn button


In-camera raw processing


Ability to output uncompressed HD video to an external recorder


Manual audio recording levels


3.5mm Stereo mic input


high clarity pictures


Cons


Slow AF in Live View and video modes (compared to mirror less APS-C cameras)


No real-time aperture adjustment in Live View


Relatively small image buffer limits burst capacity in raw-enabled modes


Soft video output at default settings


No aperture control in video mode


Up sampled video at default 60i output


When shooting in Live View, the rear screen is blacked out till the data is fully written to card


File numbering default that resets after every card format


Lacks in connectivity features



Final word

The cool camera has many amazing features and specifications which we already discussed above. The camera delivers 24 MP output with high clarity images. It is handy and easy to use. The design is impressive and it attracts customers at very first sight. Even though it lacks touchscreen but it has many useful functions. If you are planning to buy a new camera, Nikon D5200 is a good option.

Read Top 5 DSLR cameras below Rs.30,000 you can buy online