Upcoming SlateBook x2 Android and Split x2 Windows 8 hybrid tablet PCs by HP: Specs and reviews

Recently HP announced their two new affordable priced convertible tablets, which have to be rolled out in August. Out of the two - the SlateBook x2 is an Android based tablet, where the Split x2 is a Windows 8 machine. This post covers specs and reviews for these two HP tablets.


There is good news for the customers who have been waiting for the arrival of affordable revolutionary convertible tablets for so long. You will be pleased to know that the leading PC maker - Android or Windows 8, under the most popular brand name HP.

In this post, we have covered two ultimate convertible machines by this PC manufacturer namely, SlateBook x2 and Split x2. Let us checkout what these two hybrid machines carry for you:


SlateBook x2 Android convertible tablet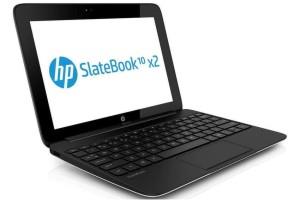 HP, for this time, appears sitting with Google and packed their Android operating system inside Slatebook computing machine. It is a transforming device with an optional keyboard dock. It has added advantages of Google's cloud computing via Kingsoft® Office. It weighs 2.8 pounds including keyboard dock and provides very strong battery support. It is claimed to be the first Android based machine with quad-core Tegra 4 chip. The market enthusiast predicting success of this device for having nice features and having Android based built-up.


Specifications and features

The device has a full high definition display screen of 10.1 inches. It has an anti glare screen with 1,920 x 1,220 pixels of resolution. It shows crystal clear images and gives ultimate viewing experience to its users, while watching videos and playing games.

It runs on Android 4.2.2 Jelly Bean operating system and powered up by a very powerful Nvidia Tegra 4 quad core processing chipset. The Tegra 4 architecture is well known for delivering very high level of performance and helpful in boosting up battery life by using system resources very efficiently. It is packed with 2GB of RAM and 16GB of on board storage. The users also have option to expand internal storage via a microSD card slot. It allows you accessing, editing and sharing files in cloud via Kingsoft® Office.

The system provides 8 hours of battery backup through a battery placed inside the tablet. You will also be pleased to know that the system provides extra 8 hours backup from its second small sized battery, placed inside the keyboard dock. So, on a full charge, using machine as notebook, a user can get up to 16 hours of power backup. But it no doubt, depends on usage conditions.


Pricing and release

The Slatebook x2 will be released in end of August at an affordable price range of $480.


HP Envy Split x2 Windows 8 convertible tablet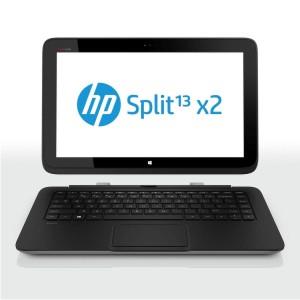 This is another convertible offer by HP which runs Microsoft's latest operating platform. With larger display than SlateBook x2, it is a large sized hefty tablet, which is most suitable for the users who mostly use their tablet for watching videos and playing games. Double hard disks are the highlight of this hybrid machine. This is an affordable priced tablet-laptop, which is also going to arrive with its aforesaid companion.


Specs and features

Split x2 is a heavier 4.9 pounds machine when attached to the keyboard dock. For improving portability, you can easily detach its 2.2 pounds tablet from the keyboard. On the 13.3 inches large sized anti-glare touch screen, a user can enjoy multimedia games and watch online videos for hours, without get any adverse affect on eyes. It has standard screen resolution of 1,366 x 768 pixels.

It runs on Windows 8 operating system and powered up by Intel's core i3-3229Y bridge processing unit, couples to 4GB of RAM with 128 GB of SSD storage. As we know SSD storage is very efficient for enhancing system's boot up speed.

For network sharing and file transfers, you will find an HDMI port, 2 USB ports, a full sized SD Card slot, Bluetooth, Ethernet and Wi-Fi on device. The large sized keyboard has a wide clickpad for scrolling finger on its touch screen surface. With a 2 MP front camera, it also has beats audio technology and dual speakers.

The Split x2 comes packed with a strong battery, which gives up to 11 hours of backup on a single full charge.


Pricing & Availability

This big sized convertible tablet will also be available in US in August 2013 at a price range of $800.

Read Notion Ink Cain Windows 8.1 tablets to be available on Flipkart