How to play Dessert Shop game on Facebook- review and walkthrough

Read all about the game Dessert Shop and know its features along with the pros and cons. Go through the walkthrough and know the tips to play this game and a lot more.


Pros and cons
Pros: Good restaurant simulation game

Cons: Nothing innovative compared to many restaurant sim games out there. Dull Graphics and not so good music.

Did you ever dream of owning your own Dessert Shop? Have you ever tried playing a restaurant game? Then this great Facebook game published by 'Shinezone' will let you make your dream come true. Dessert Shop is a simple game where you are assigned to prepare lots of desserts by following various techniques and also can experience the ultimate satisfaction of baking process. Bake from dry cakes to entire vanilla cakes, all are now just few clicks apart and share the taste with your friends.




Dessert Shop is a good game where you will play as either male or female and your main objective is to run your pretty shop to make it a world-class bakery. As the beginning of every single game is kind of boring, here in Dessert Shop also you have to start from a tiny shop. You will be even running this tiny shop with just a single member who work as a staff. But as you play through the game preparing various desserts, selling them, gradually the game becomes more interesting but repetitive. You will gain more reputation and it will help you expand your Dessert Shop along with the raise in menu items. Expanding your shop allows you to install various appliances, additional tables, hiring more staffs and most importantly learning new recipes. You even gain the knowledge behind the real business trick to sell items with more profit by just adding some changes to the old recipes.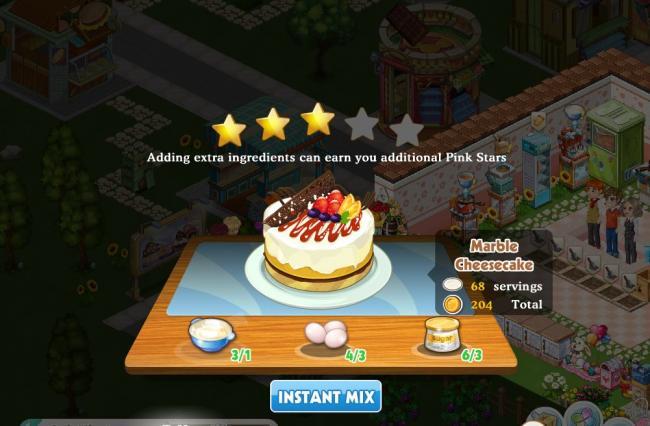 Apart from baking various desserts alone, making ingredients for the sake of baking, is also completely in your responsibility. For this there is option for harvesting different ingredients within your backyard. From the backyard you can even get supplies of various ingredients such as sugar, milk, wheat, fruits, eggs, nuts etc. Now these raw materials can be brought into your store and prepare the basic ingredients like making butter by agitating milk, making flour by grinding down the wheat etc. Now that all ingredients for your respective recipes are being made, it is now time for the action to bake your recipe.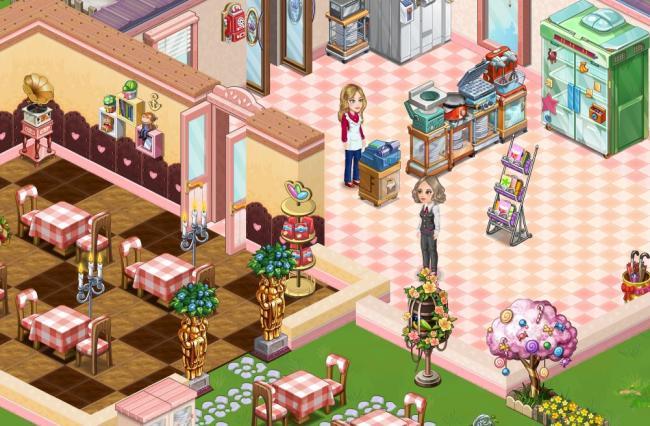 If you have played similar restaurant games in Facebook, Dessert Shop is something you can give a skip otherwise it is one time try. There are some impressive features out there that will make this game a one time play for you but it is not addictive at all. Apart from just baking various recipes, you must also have to give attention on earning more stars. Yes, it is true that you can earn stars for the preparation of each recipes. The amount of stars depend on the number of ingredients that you use. Using more number of ingredients within your recipe makes it even more beautiful and also will result in earning more stars. But always make sure that the addition of ingredients just don't mess up your recipe. There is even possibility of burning your food while leaving it inside the oven for too long. So always keep an eye on the recipe and take it out immediately after its been cooked.

The game Dessert Shop is even more impressive with the addition of various in-game quests. But there are few drawbacks that makes the game mildly interesting. The dull graphics offered within the game makes the avatar looks much irritating and they just roam around like a lifeless doll. This results the game without any originality. Even the background music delivered in this game is also not very much impressive.

Overall, the game Dessert Shop is a fine opportunity to hook up with if you are playing a restaurant sim game for the first time. But for those who had already played thousands of such games may feel Dessert Shop to be boring.

Read Top 5 Best Simulation Games on Facebook in 2013