How to play Car Parking Rush game on Android- review and walkthrough

Read the review of the fantastic car game Car Parking Rush. Know the pros and cons of this game, go through the tips to play this game and know a everything about this amazing Android and iOS game.


Pros and cons
Pros: Fun game with tight controls and amazing levels, graphics are nice too.
Cons: Pop ups during the gameplay are irritating. Better to switch off your data connection to avoid them.

Car Racing games basically all same in the game play but still forms one of the major categories of games that are played worldwide. I am sure most of the games still love to spend time on their old version of Need for Speed. Car Parking Rush is one game which took the concept on a different level and aims to make the art of parking your car a fun time.

I have played this game and fallen for it as soon as I started playing it. I feel that it is the most classic car parking game ever that I have come across. If you are not good with driving then simply don't worry, because this game will teach virtual driving as well. So have fun learning driving for free and don't worry if you haven't passed your driving in real life, because here in this game it will be quite easy for you to pass the driving test and get the satisfaction of being finally successful.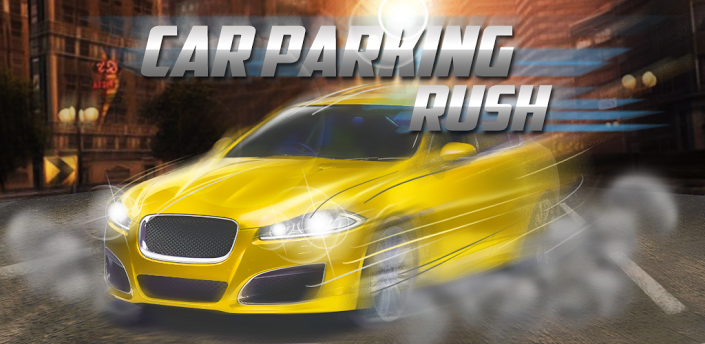 You will never get bored with this game, as this game is capable of giving you more than 50 parking situations, which might have appeared in real life as well. Trust me on this when I say that this game has got the most beautiful cars and they are indeed in many numbers and are in different type as well as kinds. If you want to practice your parking skills, then this is the ultimate game that you can search for. This game requires you to play with strategy and as well as speed. I would say that this game is not that difficult to play, but not that terribly easy either so you just lose your interest.


Features of Car Parking Rush Game

Let us see some of the feature of this game. I can definitely say that this game has got the most realistic driving experience and for that we should thanks to the fantastic graphic of this game. This game has got HD graphics with high quality and the controls are quite easy and as well as simple too and the virtual steering wheel is precisely-controlled, so what are you waiting for? Car Parking Rush has got numerous challenging quests waiting for you.

Read How to play "Grid 2" car racing game: Review of the game


Tips on how to play

1. Let me tell you about the main aim of this game- In this game you need to park your car in any given situation, you will get different set ups and areas to park your car and you need to do this without stopping your car, that is you have to be in speed and park the car without coming to halt.

2. As I mentioned above that this game is not difficult to play once you get used to it. But to excel this game you need to know the right use of the steering wheel, accelerator pedal and as well as the brake pedal, but don't even if you don't know to use it in real that is not a problem, because you can excel this task on your phone or tablet's screen.

3. To be the perfect car parker, you should always try to avoid crashing any cars or any obstacles that may come to your way and yes, also remember that you need to park your car, where you have been assigned to do so and also try to park your car in your parking place as safely and accurately as you can.

4. This game has got the best graphics and audio is awesome, so overall this game is a total hit for people who simply love cars and the speed as well. So you need to use some strategy and and control your speed to get the rush of satisfaction of perfect driving.

I would like to rate this fun and rushing game four out of five for the awesome graphics and more than fifty type of parking situations and don't forget all the beautiful cars which are simply irresistible.

Download Car Parking Rush now and enjoy the fun.