Review of Hungry Shark Evolution Android game by Future Games of London

Is it a dinner time? Yes it is! FUTURE GAMES OF LONDON has developed a jaw dropping game, Hungry Shark Evolution. So swimmers, beware of the deadliest evil sharks ever. Read more!



Introduction: Storyline and review

Hungry shark is one of the top rated games available on Google Play Store. With about 4.6 star rating and around 125,000 user reviews, the game has achieved a lot to figure out its pros as well as cons. Starting from Android 2.3 and up, one can enjoy playing Hungry Shark Evolution game on his/her Android device. The device may be a smartphone, tablet, tab, phablet or a note. The game is put under action and arcade category as it boasts both action as well as hungry nips. There are many pros of this game but also, it can't be excluded from being con free. There are many cons of Hungry Shark Evolution game; the first and the far most con of the game is that it is of a bigger size around 90 MB. Secondly, it affects battery life. Thirdly, it is very difficult to unlock at all entry level sharks, especially the 10 ton killer machine and Evil Great White Shark.

There is no story line to describe the game. Just playing the game makes a big difference. To stare at one's pray is over, get ready to experience a virtual life of a shark and defeat the hunger. Hungry sharks are hungrier than ever and you need to help them out in attaining their breakfast, lunch as well as dinner. This is an ultimate test of survival so don't let the sharks go on fast, just keep their stomach filled all the times. It is not only that; feel yourself as a predator as well as a pray. Enjoy the graphics in 3D and get your jaw dropped. While playing this addictive action packed game, grow yourself (#shark) on the feast where tasty marine creatures, fishermen and swimmers are served on a table. Chase with other sharks, weird creatures and submarines and get rid of them. Eat as a combo and gain massive points and coins. Use the coins to upgrade and buy sharks. Also, buy power ups, boosts, antidotes and much more to be the survivor at the fittest. Complete missions, objective and find treasures per day to obtain part time coins and gems. Use gems to unlock dreadful sharks at beginning stages. Eat golden colored creatures and humans to get bounty credits. Go ahead in unlocking and upgrading the most fierce sea creatures/sharks;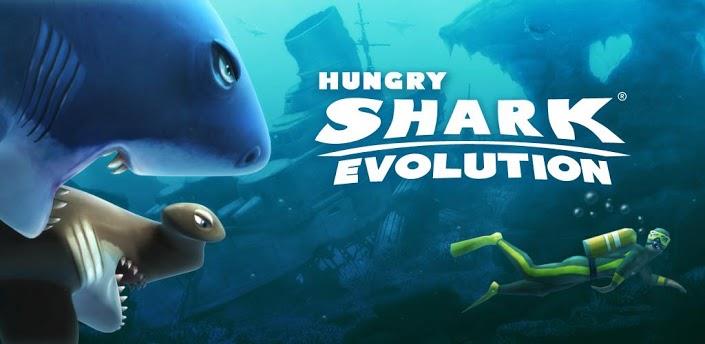 Reef Shark: You begin with this shark. The shark prefers to live in shallower water (not more than 90M deep) and sizes around 4 meters. It eats smaller and less dangerous creatures like turtles, unarmed humans and small fish (not jelly fish or so). Upgrade the shark and get it on level 10 (100%) to unlock Mako shark.

Mako Shark: After upgrading the Reef shark fully, you can buy this shark for 1500 coins. Mako shark is an entry level shark which sizes around 5M and can stare 150 meters deep (maximum depth). Alike Reef shark, Mako can eat more creatures including stink ray. It is faster, stronger and has more agility which comparing it with Reef shark. To take more aggressive and fierce prey is Mako's daily routine. Get it upgraded fully to unlock Hammerhead shark.

Hammerhead Shark: Hammerhead has got its name from its hammer shaped head. It is a cunning hunter and can even go up to 200M of depth. The shark sixes around 6 meters and can eat most of the creatures. The shark has a killer bite and can even eat other hammerhead sharks. Upgrade this shark and unlock the Tiger shark.

Tiger Shark: There is nothing to say about this shark. It is very fiercer shark that Reef, Mako and Hammerhead shark that penetrates its jaws deep inside its prey. The maximum depth up to which Tiger shark can go is 275M. Also, it sizes around 7 meters and can eat around 99% of creatures. It can resist most predator attacks. Upgrade Tiger shark fully and unlock the ultimate shark, the Great White.

Evil Great White Shark: The Great White shark is the largest, deadliest and fiercest of all sharks. There is no limit to stop its feast. It can go anywhere and any sizes around 10M. Feed the shark to upgrade it into a ten ton (10,000 Kg) killer machine. From then, finish everything.


Features of Hungry Shark Evolution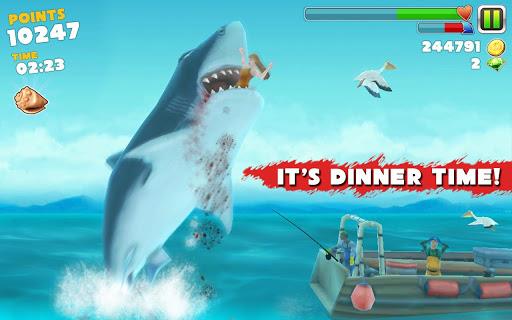 Hungry Shark Evolution, developed by 'Future Games Of London' studio is of the following features:

1. Jaw dropping 3D graphical interface.

2. 5 back to back sharks to unlock and upgrade; Reef shark, Mako shark, Hammerhead shark, Tiger shark and Great White shark.

3. About 45 missions and objectives to unlock and pass through.

4. Connect and share your score on Facebook.

5. Many dangerous creatures to eat and fetch.

6. To find treasures and get rewarded.

7. Limitless sea world to terrorize.


Conclusion

Hungry Shark Evolution is an addictive action packed game and is free to download. This was all about the game. If you find any wrong or incomplete information or want to know more about Hungry Shark Evolution game, then feel free to share your priorities with me in the form of responses, below.

Read Strider 2014: Review, Gameplay and tips to play