Karbonn Cosmic Smart Tab 10- Hands on review

Are you looking for a hands on review of the top tablet from Karbonn, Cosmic Smart Tab 10? I am also eager to share it with you. Features, specs, games, apps, ranking, price, availability and where to buy the tablet! Read now.


Introduction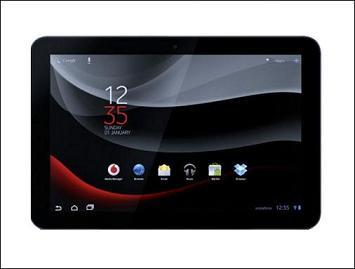 Karbonn is a well established brand in India. It has tried to introduce some super-duper smartphone and tablet sensations and S5 Titanium is the best example. Talking about what Karbonn has achieved in the field of manufacturing tablets, there is a lot to say and describe. One can experience touch capacitive seen, which is bigger, better and non-bizarre. There are thousands of tablets from Karbonn, categorized under dozens of series. Cosmic is one among its series and is named for its versatility and space. Under this category comes Smart Tab 10, Karbonn Cosmic Smart Tab 10. It is a milestone of Karbonn as the tablet is operated by Android's latest version OS, Jelly Bean. It is not a mini tablet but big. Big enough that it touches about 10 inch of screen size. Being powered by dual core technology processor, the RAM of Smart Tab 10 is outstanding. With a bi-cameral support, HD capability to record, the 3D G-sensor and expandable memory up to 32768 MB, the tablet can hardly be underestimated. Let's have a detailed review of Karbonn Cosmic Smart Tab 10 as follows:


Features and specs

Looks and feels: Karbonn Cosmic Smart Tab 10 has a Slate form factor. It comes in only black color and supports 2 communicating facilities, instant messaging and Email.

Display: The tablet has a big 9.7 inch TFT LCD Capacitive touch screen with a resolution of 1024 x 768 pixels. Also, G-sensor, 3D G-sensor and Accelerometer sensor is included.

Processor: Karbonn Cosmic Smart Tab 10 is processed by an ARM Cortex A9 dual core processor clocked at 1.5 GHz speed. Its speed is incredibly extraordinary. Mali 400x2 GPU is also included for better performance.

Memory and storage: Interestingly, Smart Tab 10 has an internal memory of 1.5 GB which can be expanded up to 32 GB using a microSD card. Talking about memory, the tablet covers 1 GB RAM (random access memory).

Software and apps: Karbonn Cosmic Smart Tab 10 is run by Android v4.1 Jelly Bean [OS] and is preloaded with many apps, including Google Play, YouTube, E-Book, Google Currents, Angry Birds, Turbo FLY 3D, Flipboard, Kingsoft Office, Economic Times app, Times Of India (TOI) app, Just Dial app, Popi app and PayTM.

Connectivity: Regarding this aspect, Cosmic Smart Tab 10 has much to show. For connectivity the tablet supports 3G via dongles, Wi-Fi 802.11 b/g/n, Bluetooth, USB, HDMI port, microSD card slot and USB port. The supported dongles include Reliance 3G ZTE/AC2737, Reliance 3G ZTE/MF190, Tata Photon HUAWEI/EC156, Tata Photon HUAWEI/EC1561, Vodafone HUAWEI/K3772 and Vodafone HUAWEI/K3770.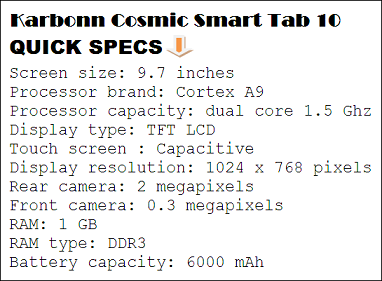 Camera: The tab supports a 2 megapixel rear facing camera and a front facing camera of VGA quality. The image formats supported by both cameras include JPEG, BMP, GIF and PNG. The rear facing camera is favorable for capturing stills and to record videos in HD quality @ 1080p. Front camera is for video chatting purpose.

Multimedia: Karbonn Cosmic Smart Tab 10 features a music player (supports MP3 audio format), 1080p Full HD video playback, video recording, and much video format support including MP4, 3GP, WMV, ASF, AVI, FLV, MOV, MKV, TS, TP, M2TS, VOB, DAT and PMP. Moreover a 'Live TV – NexGtv' app is also included.

Battery: The tablet equips a rechargeable Li-Ion batter7 with a capacity of 6000 mAh. And talking about the battery life is just outstanding.

Games: One can play many cool games on this tablet. Among them, the most trending are Snow Bros, MiniSquadron!, Piano Master, Blow Up, Smoke A Bowl, Backflip Madness, Chess Time Pro, Ultimate Cricket '11 World Cup, Bike Race Pro, Voxel Invaders, Gem Miner: Dig Deeper, Shiny The Firefly, The Tiny Bang Story, SUPER CRICKET PRO, Another World, WordFeud Helper Full, Shoot The Birds, Disney Fairies: Lost & Found, Tongue Tied!, Jewellust, Gunship-II, Chess Book Study, Farm Frenzy 3, Total Snooker, Classic Words Plus, Aralon: Sword and Shadow, 9mm, Fling!, Mr.AahH!!, God of Blades, Froad, Dark Nebula - Episode One, METAL SLUG 3, Reckless Racing HD, Fleece Lightning, MYFC Manager 2013, Score Card, Rummy, Top Truck, Zen Bound 2, Touch Pool 2D, After Burner Climax, Dungeon Village, Pacific Navy Fighter Unlocked, Math Workout Pro, Baby Explorer and Mole Word.

Package contents: The package contents of Karbonn Cosmic Smart Tab 10 include Smart Tab 10 tablet, battery, charger, data cable, OTG cable and a users guide.


Wrap up: Price and availability and ranking

Price and availability: Karbonn Cosmic Smart Tab 10, being an outstanding tablet is a big steal as Karbonn has priced it around Rs 10,490 (10.5K approx.) in India.

Ranking: Karbonn Cosmic Smart Tab 10 is ranked 17th when we talk about the top 10 9.7″ sized tablets, 34th when we talk about top 10 Rs 5000 - Rs 10000 tablets, 153rd when we talk about top 10 some top online stores where from one can buy Smart Tab 10 at best prices?

You can buy Karbonn Cosmic Smart Tab 10 from Indiatimes.com for Rs 9,350.

You can buy Karbonn Cosmic Smart Tab 10 from Maniacstore.com for Rs 9,650.

You can buy Karbonn Cosmic Smart Tab 10 from Saholic.com for Rs 9,269. [Lowest price]

You can buy Karbonn Cosmic Smart Tab 10 from Mirchimart.com for Rs 9,390.

You can buy Karbonn Cosmic Smart Tab 10 from Yebhi.com for Rs 9,599.

You can buy Karbonn Cosmic Smart Tab 10 from Gadgetsguru.com for Rs 9,680.

You can buy Karbonn Cosmic Smart Tab 10 from Naaptol.com for Rs 9,799.


Conclusion

This was all about the trending tablet, Karbonn Cosmic Smart Tab 10. If you find any wrong or incomplete information in this article or want to know more about this tab, then let me know through responses below.

Read Top 3 features of the Machone smartphone by Karbonn