How to play Jelly Glutton puzzle game on Facebook- review and walkthrough

Have you tried playing Jelly Glutton games on Facebook and want to see the tips to play this game? Then you search stops right here as we bring you a complete walkthrough and review of the amazing Facebook game Jelly Glutton.


Pros and cons
Pros: Fun-filled power-ups. Gameplay is quite simple

Cons: Lack of originality. Timed levels seems to be very long than usual.

Rating: 8 out of 5 stars




Did you ever play Candy Crush Saga from the King? Would you like playing yet another tasty game on Facebook? Then here is Jelly Glutton, a match-three game from RoyalCactus published exclusively for Facebook users. There is a little guy named Jelly who eats all the tasty sweets available within the level. Your main objective in this game is to feed the little monster by matching up the sweets with match-three mechanics. Once you match up a minimum of three same candies, it get slashed down into the little monster's mouth. The actual gameplay behind Jelly Glutton is to feed the Jelly and get his belly filled with tasty treats like cookies, candies and even pastries. But it doesn't seems to be that original when compared to other similar games, however, if you haven't tried similar games then it offers some cool fun-filled features.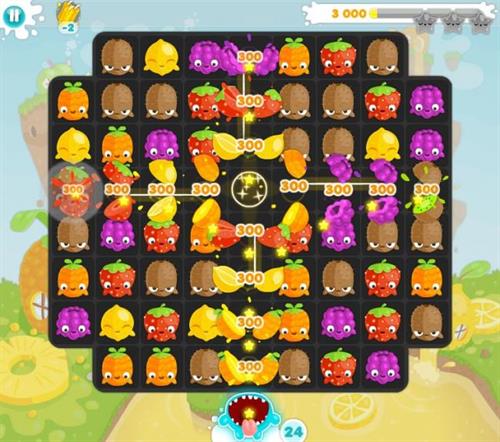 Jelly Glutton features unique level layout along with different goals as you enter each level. There are even objectives that ask you to swap sweet treats in order to achieve points. You can even swap candies either through vertical direction or through horizontal direction to get a perfect matches of three or more. As you start the game, you will be ask to walkthrough some basic levels that features limited amount of moves. You can earn points through these basic levels before advancing to most complex levels that contains obstacles. Various obstacles added within the game board to make the level more complicated can be in the form of holes or a square of jelly over the candies etc. Various highly complicated levels even includes matching up of a specified number of similar candies.

As the level goes higher, the complicity also made advanced, making the gameplay to be the same. Jelly Glutton has adopted many similarities from the King's Candy Crush Saga but still, Jelly Glutton features much easier gameplay than the other. Even the most complicated levels in Jelly Glutton are not that much hard to clear when compared to Candy Crush Saga. You can take a look how our review is filled with comments of confused and disgruntled players. The ease in clearing out the hard levels in Jelly Glutton is due to the sufficient amount of power-ups that are being supplied to the player on each level. There are various power-ups featured in this game from matching complex candies in a T or L shape to clearing out an entire row or column or slicing out all the like candies together at a time. For most complex levels, there is also powerful power-ups in the form of bombs that can blast off almost 70% of the candies within the board.



In each of the game world, Jelly Glutton also features a limited amount of category of candies. Thus using power-ups according to your will is not an issue as you can earn them very easily. Finding these incredible power-ups are not that hard. Using these spectacular power-ups make your gameplay even more interesting.

Apart from achieving the goal on each level, you must also keep an eye on earning points as they are the key factor for earning stars. Each level can get you up to three stars. The leaderboard delivered by the game also compare your score on a specific level with that of your Facebook friends. In order to own highest score or to beat a friend or to achieve complete three stars, you can play a specific level many times as you want.

Even though Jelly Glutton has many similarities to that of King's Candy Crush Saga', this game has got a lot of power-ups and the graphics offered within is also fabulous. Another feature that makes this game more better than King's Candy Crush Saga is the easy gameplay.

Read How to play Facebook game Candy Crush Saga walkthrough and review