Tiny Ball vs Evil Devil 2 Review | Gameplay and Tips

Are you still practicing Angry Birds? Is it your 100th replay? RV AppStudios have brought the super successful games for iOS devices, now for Android gamers. Walk through the whole game scenario based article and start your tiny rebel against giant evil devil and get the ship back under your control. Read more about this addictive real physics game.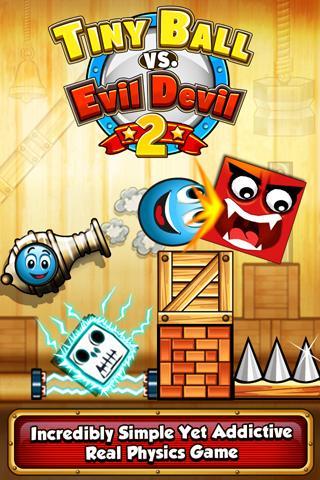 The review

After being a super successful iOS game, Tiny Ball vs Evil Devil 2 has hit Google Play Store with more addictive, effective and extreme scenario. It has been downloaded by millions of Apple smartphone users and now it is the time for Android smartphone users to cross every limit of its game play. It is just like Angry Birds but not so actual. The struggle of a tiny cute ball has begun but it is able to unleash its tact except you, your help. You are supposed to help out Tiny Ball to get the Evil Devil clutched in his own plans.

It is now more critical stage as Evil Devil, after a very bad defeat in the ring, to take his revenge, has again invaded Tiny Ball's little ship. Even to worsen the stage, Evil Devil has incredibly unleashed its hands over with massive spheres and grimacing demons. Need to shoot them! There are no catapulted birds or smirking green piggies to boost your laugh. The game is so leveled and of the mark that telling it physics game with endless twists would not be shabby. In almost all these levels, the usual target to be aimed and shot is square devil.

Not only this, while going perhaps as a beginner, many times you will see that when you hit the devils they fall onto some kind of lethal spikes and then boom! They squish, making a murder scene (messy, bloody and red end-scene). If you took mercy on some, you have to pay with full displacement of your sweet ship under no excuse. You just load Tiny Ball inside a tiny canon and like Angry Birds, where you throw the birds on pigs, bombard the ball on Evil Devil and surpass levels. It is the beginning of an endless struggle!

It isn't only that. There are many obstacles which are to be avoided in every moment of one's game play. The far most obstacle is a form of energy which can lead the Tiny Ball go vanished, if strikes. Fiery electric field! Not only these dreadful fields are to stop you, there are even many seen from interval to interval which choose the fate of the Tiny Ball. While you progress in the game, you will have to practice many times to get the timing with the clock as many obstacles will encourage you to do so. It is a bit difficult.

It is actually the nature of all games and their developers to become tougher every moment we proceed and to make them tougher at each stage respectively. Yet the game will entertain you but with many critical challenges. The challenges will not end unless and until you complete the game. One can use many boosts and power-ups to empower Tiny Ball so that it can dispatch the Devils with ease. Many players also use real cash to get some influential power-ups. Otherwise one can also play it with official provisions.


The game play

Tiny Ball vs Evil Devil 2 is very simple to play. You just tap the screen, aim a devil and release your finger to shoot. Note that while you proceed farther, you will have to dispatch two or three devils with a single shot. It is in the sense "Less Tiny Balls and more Evil Devils". There are about 120 levels in the game which, if completed, the game ends with the victory of Tiny Ball and the defeat of Evil Devil again. But it is not any body's cup of tea to tackle every challenge which the game brings before him/her. Only the most skilled and experienced gamer can successfully do so.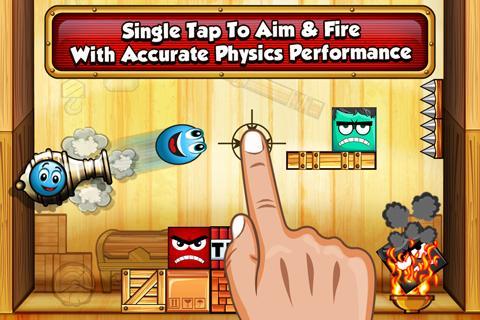 As you play on, 6 islands get unlocked periodically and it is full of thrill, fun and enthusiasm to explore those out. Also, more than 20 achievements are waiting for you, get them unlocked and keep them as your testimonials that you gained with game play. Interestingly, the background sounds match its whole theme and the special effects do suit its attractive design. The other features of the game include Retina Display Support, Special effects & attractive design. You can also share your score and testimonials with your friends on Facebook, Twitter or Email.

The time of being innocent has gone. To get the ship back under control, Tinny Ball can go up to every limit. The fire of defense may crush the offensive power of Evil Devil. The wrap up of the objective in the game is to hit devils and let then fall down on spikes and saws. There are different weapons in the game which are loaded for you or against you. Two weapons favor and three doesn't favor you i.e. spike, fire, saw and electric current/shocks respectively. You all might have felt that how can a saw be both in favor and not in favor of one? Haven't you?

Yes, you're in a doubt about the saw, being in favor and not in favor of one while the game play. It is not to be doubted! Actually saw can help you by dispatching the devils off the scene and can go against you while they move. You may miss the target you aimed and can vanquish away if clutched between the movable saws. Talking about power-up/boosts, you are provided Mighty Ball, Fire Ball, Spike Ball and Tiny Bomb. These four power boosts can make your victory definite. You can buy them from store in the game.


Wrap up

Tiny ball vs Evil Devil 2 game is available not only on Google Play Store, but also on Apple App store for iOS, Nook App store for Barnes and Noble Nook and Amazon App Store for Kindle Fire. It is also available for Windows phones including High-end Nokia Lumia series and even more. Though the number of levels, file size and game version may differ like version 1.2.1, 120 levels, 24 MB download size for Android and on Windows Store (Nokia store etc) the game has 150 levels, 49 MB download size and 1.0.0.1 game version. All credit goes to RV AppStudios for developing such kind of game which is promised to be more effective and georgic than the 1st (Tiny Ball vs Evil Devil).