Angry Birds Friends Android game review: Now compete with your Facebook friends

Are you tired of the same gameplay followed by the Angry Birds series? Check out the latest Angry Birds Friends from Rovio that connects you with Facebook. The new game levels, improved in-game mechanics, fantastic gameplay all together makes the game even more interesting than ever. Today in this article you will find out the important details about the game 'Angry Birds Friends' and find out what are the features that makes it unique from other Angry Birds Games.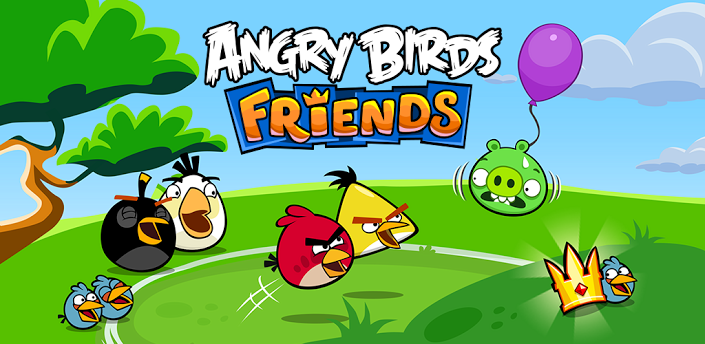 Rovio is best known as the creator of Angry Birds series. This great developer is now releasing yet another title in the series for Android as well as iOS; Angry Birds Friends. This time apart from featuring a fantastic game play along with impressive visual graphics, the game also comes with Facebook integration. Although this is an awesome feature, it has been missing from almost all the Angry Birds series till now. By this feature, a player is allowed to invite and compete against his / her friends from Facebook. The game also delivers wonderful weekly tournaments by which you can beat the other players by scoring the highest. You can start participating in these tournaments right after connecting with Facebook and finishing the tutorials. Just for completing the basic tutorial at the start, you will be earning free birds-coins. Apart from beating your friends' highest score, there is even an option to brag them. Sending gifts to your close friends, inviting other friends to start competing with you etc, are some of other great features from 'Angry Birds Friends'.

This amazing free game available at Google Play Store also provides achieving various trophies like bronze, silver and gold trophies while competing with your friends. Once you connect to your Facebook, the progress of your tournament will be updated automatically. Angry Birds Friends update its tournament weekly with the addition of new and unique levels. The game delivers up to four classic power-ups which will give you more drastic power to destroy things and will help you easily finish up the harder stages. Daily rewards keep you motivated in playing the game daily and there is even option available to you by which you can send gifts to your Facebook friends.

Another impressive feature that Angry Birds Friends offers is the syncing option. This will help you continue your game from where you left off earlier. As all the Angry Birds series follows the same game mechanics, you may be a little worried about this game too, but for your surprise Angry Birds Friends adds an impressive game play that includes some new game play along with impressive in-game mechanics.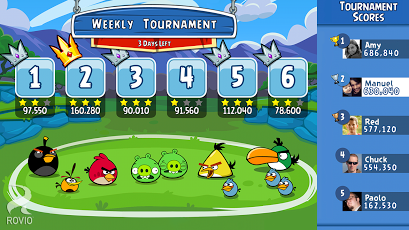 Even though Angry Birds Friends provide better game play along with more improved in-game mechanics, the game requires a working internet connection along with a Facebook login to enjoy the game without any problems. You may have played any one among the Angry Birds series including the lastly developed Angry Birds Star Wars, some maybe a great fan of Rovio and others may be tired of playing the same game again and again. But as I mentioned earlier, Angry Birds Friends is something different and is one of the game that you should definitely try out someday.

The game is available at Google Play Store for free. Angry Birds Friends is compatible with almost every Android device. So, check from the Play Store, whether it is compatible with your specific handset or not. Get the game right away, play the challenging new levels, compete with your Facebook friends and experience the latest and impressive game play from Rovio.

Read Angry Birds review and step by step how to play guide